Some Productivity-Boosting 68K Utilities
Posted by Travis on 25 July 2010, 06:39 GMT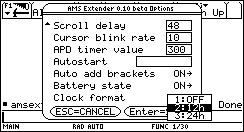 Stefan Heule has recently uploaded a few handy 89/89t/92+/V200 TSRs and utilities that help make using AMS a little less clumsy. AMS Extender makes a wide range of customizations possible, including re-enabling kbdprgm keys 7–9 (which were replaced with other functions in later versions of AMS); adjustable key repeat speed; automatic parenthesis insertion; for the 92+/V200, a status bar clock and battery icon; and a lot more than can be fully summarized here.
EasyChar provides an attractive graphical replacement for the built-in CHAR menu. It has a convenient tabbed interface that shows all the characters in a category at one time. It allows characters of the user's choice to be added to the menu and keeps track of the last selected characters for quick access.
ticonst is a replacement for the standard AMS UNITS dialog. It features an efficient two-pane menu that can be navigated quickly without the slowdown and flicker of the normal UNITS dialog. The full names of the constants are displayed, and the value of any constant can be shown on demand.
AMS Extender and ticonst also have German-localized versions (English versions are provided for all programs) and come in a choice of compressed and non-compressed executables. All programs are licensed under the GPL, so source code is included.
Update: EasyChar is now available in German and in both compressed and uncompressed executables.