FlashZ BomberMan v1.70 for 68k Calcs
Posted by Michael on 10 November 2005, 14:50 GMT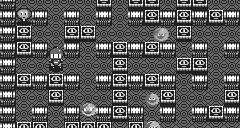 Flavien Racine has been busy recently working on programs that have "Bomber" in their names. First, he has updated BomberMaze68k, everyone's favorite Bomberman game, to improve Voyage 200 compatibility. He has also now released FlashZ BomberMan for the 89, 92+, and V200. Complete with Flavien's characteristically stunning graphics, FlashZ BomberMan is a new clone of Bomberman and Dyna-Blaster. If you like BomberMaze68k, you should enjoy FlashZ BomberMan v1.70.
Reply to this article
The comments below are written by ticalc.org visitors. Their views are not necessarily those of ticalc.org, and ticalc.org takes no responsibility for their content.
WOW!!!!!!!!!!!
srunni
(Web Page)

That's all I can say - WOW!!!!!!

The graphics are amazing and so is the gameplay. It's like a Game Boy game, except I can play it in class :-)

I hope Flavien Racine comes out with many more games (maybe a better version of Mario :-)

Reply to this comment
23 November 2005, 21:28 GMT
1 2

You can change the number of comments per page in Account Preferences.



Copyright © 1996-2012, the ticalc.org project. All rights reserved. | Contact Us | Disclaimer