Kirby's Quest v1.05
Posted by Michael on 4 March 2005, 05:08 GMT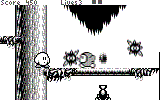 Kirby's Quest is an 89 game similar to Kirby's Dreamland 1 and 2. This side-scrolling game features five types of enemies and a PC level editor. In the most basic sense, it is like Mario. The most important aspect of the game is that the author lists 130 KB of free RAM required in order to prevent crashes because "some levels are large."
Update: Version 1.06 has now been released. This includes a bug fix and 92+/V200 versions.
Update: Now version 1.08 is out.
Reply to this article
The comments below are written by ticalc.org visitors. Their views are not necessarily those of ticalc.org, and ticalc.org takes no responsibility for their content.
Re: Kirby's Quest v1.05
expo25kr

umm I have a problem when I load it onto my titanium...when I archive all the files and run kirby() there is a blank screen and it shows "File not found" I have 170k ram memory and 917k flash memory....I know I uploaded
Kirby/89/kirby.89y 28228
Kirby/89/kirby.89z 1159
Did I do anything wrong?
And also my friend also has a titanium and ran the program and it showed "Kernel not found" can you help us with our problem?

Reply to this comment
5 April 2005, 06:42 GMT
1 2 3

You can change the number of comments per page in Account Preferences.



Copyright © 1996-2012, the ticalc.org project. All rights reserved. | Contact Us | Disclaimer