GTA Sin City and Complete
Posted by Travis on 27 November 2010, 14:32 GMT
To finish off the month, here are two final TI-89/92+/V200 retroactive features: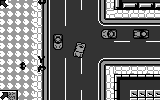 GTA Sin City by Olivier Sangala is an ASM adaption of Grand Theft Auto. It is released under the GPL and features a large 248- by 255-tile city, ten missions, six races, hidden secrets, and 17 vehicles to find. It is quite extensive and is sure to provide hours of fun.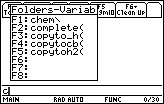 Samuel Stearley's Complete is a very handy auto-completion TSR. It pops up menus as you type, allowing you to complete the names of built-in commands and functions; user-defined programs, functions, and variables; and constants using the F1–F8 keys. Complete is customizable, and it is possible to add additional terms to auto-complete on.
Reply to this article
The comments below are written by ticalc.org visitors. Their views are not necessarily those of ticalc.org, and ticalc.org takes no responsibility for their content.
Re: GTA Sin City and Complete
apcalc

Nice to see these two featured! "Complete" looks like a good tool that will quite useful for me!

Reply to this comment
27 November 2010, 16:38 GMT





Re: Re: GTA Sin City and Complete
TC01

Yeah, I just installed it on my Titanium as well- very useful.

A shame it was only just featured though...

Reply to this comment
28 November 2010, 19:38 GMT





Re: Re: Re: GTA Sin City and Complete
Travis Evans

Yeah, it has been on my calculator for years now, and for some reason I had always thought it had been featured. I was pretty amazed to discover it actually hadn't been, so I decided to fix that. :-)

Reply to this comment
29 November 2010, 00:56 GMT
Re: GTA Sin City and Complete
DWedit
(Web Page)

Does this mean the era of trying to keep the archives "Clean" and "Family Friendly" in order to appease Texas Instruments is long over?

Reply to this comment
27 November 2010, 18:59 GMT





Re: Re: GTA Sin City and Complete
Kevin Ouellet
(Web Page)

For some reasons, I believe with games such as GTA ticalc doesn't mind as much anymore, but if the entire game is blatantly centered on drug dealing, such as Drug Wars, it still won't make it to the archives.

That said, I don't think it matters anymore with Texas Instruments: They got rid of calc games links on their website, last time I checked (even Detacheds)

Reply to this comment
28 November 2010, 23:32 GMT



Re: Re: Re: GTA Sin City and Complete
TC01
(Web Page)

Not entirely. You can still download PuzzPack from TI's site (see the URL under my name).

Reply to this comment
29 November 2010, 04:05 GMT





Re: Re: Re: GTA Sin City and Complete
Kevin Kofler
(Web Page)

GTA is centered on several things, all blatantly illegal. :-/

Reply to this comment
29 November 2010, 15:51 GMT
Re: GTA Sin City and Complete
schoolhacker hacker

omg... is this serious!?
GTA FOR THE CALC!?
DAMN! THATS AWESOME!

unfortunately i can;t play it since i have no ti-89 lol

Reply to this comment
27 November 2010, 22:29 GMT
Re: GTA Sin City and Complete
Kevin Kofler
(Web Page)

Complete is indeed a very nice program. It's sad that it took until now (5 years after the last update) for it to get noticed, but better late than never!

Reply to this comment
28 November 2010, 15:36 GMT





Re: Re: GTA Sin City and Complete
Kevin Ouellet
(Web Page)

Yeah I'm happy the new archivers are featuring that stuff now. It's even greater in current circumstances because Nikky and Travis are not even news editor, yet they devote their time to that second ticalc.org job.

Hopefully some of the newer stuff that recently got missed make it as well soon.

Reply to this comment
28 November 2010, 18:56 GMT
Re: GTA Sin City and Complete
nyall
(Web Page)

First feature ever. This warms my cold heart.

I suppose I'll get off my butt and upload yapt with fixes for the titanium.

Reply to this comment
29 November 2010, 05:26 GMT
Re: GTA Sin City and Complete
Stefan Bauwens

I one time tried GTA on my calc. It was really nice. I didn't finish it because I gave up after not being able to do a (too hard) race.:D

Congrats both with the feature!

Reply to this comment
29 November 2010, 07:28 GMT