squidgetx Releases Space Dash 1.2
Posted by Travis on 26 September 2010, 09:56 GMT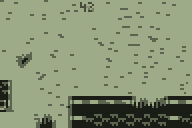 squidgetx has released Space Dash 1.2 for MirageOS (or a MirageOS-compatible shell) on the TI-83/84 Plus. Space Dash is an Axe side-scrolling space platformer that features saved high scores, three-shade grayscale, and parallax scrolling. The object is to race through the levels, jumping over or shooting at obstacles to avoid crashing. Check out the animated screenshot on the download page to see it in action.
Reply to this article
The comments below are written by ticalc.org visitors. Their views are not necessarily those of ticalc.org, and ticalc.org takes no responsibility for their content.
Re: Sylvan Z Releases Space Dash 1.2
ztrumpet

Nice job squidgetx! Congrats on the feature. =D

Reply to this comment
26 September 2010, 13:48 GMT
Re: Sylvan Z Releases Space Dash 1.2
Kevin Ouellet
(Web Page)

This game is pretty epic. I just judged the version for the Omnimaga contest (although I have yet to write down scores) and this is an awesome game. I'm glad the small bug was fixed in the new version and that it was finished. Nice graphics and pretty addicting. Congrats :)

Reply to this comment
26 September 2010, 15:31 GMT
Re: Sylvan Z Releases Space Dash 1.2
schoolhacker hacker

hmm...
i guess i will have to redownload this again...

i still like minesweeper better though :)

Reply to this comment
26 September 2010, 18:43 GMT





Re: Re: Sylvan Z Releases Space Dash 1.2
Kevin Ouellet
(Web Page)

Yeah last night I was hooked to it for a while :D

I was kinda hooked to Splut and Jump as well, but Splut had a key detection issue which made it a bit less enjoyable for me in its contest entry form D:.

I have about 7 more entries to check now :P

Reply to this comment
26 September 2010, 18:49 GMT
Re: Sylvan Z Releases Space Dash 1.2
Finale_TI

I liked the first version, I should really download this.

The Axe contest saw a lot of awesome games like this.

Reply to this comment
26 September 2010, 21:58 GMT
Re: Sylvan Z Releases Space Dash 1.2
Drew DeVault

"...for MirageOS on..."
In the screenshot he runs it from the home screen.

Reply to this comment
27 September 2010, 00:40 GMT



Re: Re: Sylvan Z Releases Space Dash 1.2
Kevin Ouellet
(Web Page)

Yeah I think it had to do with the fact the file was uploaded in the MirageOs directory.

Reply to this comment
27 September 2010, 04:25 GMT



Re: Re: Sylvan Z Releases Space Dash 1.2
TC01

The readme says: "and play via either MirageOS, DoorsCS7 or other compatible shell."

DoorsCS has Noshell features, doesn't it? Or he could be using CalcUtil or Noshell.

Reply to this comment
27 September 2010, 12:10 GMT





Re: Re: Re: Sylvan Z Releases Space Dash 1.2
Kevin Ouellet
(Web Page)

It does but the screenshot shows the nostub version. Since the source code is included, you can compile the program for the shell of your choice and even an APP if you got Axe Parser. I don't know if it works well in APP form, though. If it uses self-modifying code tricks, it certainly won't.

Reply to this comment
27 September 2010, 19:28 GMT





Re: Re: Re: Re: Sylvan Z Releases Space Dash 1.2
TC01

Oh, I forgot about how he used Asm( to execute it... right.

Reply to this comment
27 September 2010, 20:12 GMT



Re: Re: Sylvan Z Releases Space Dash 1.2
KermMartian
(Web Page)

This games is not for MirageOS, as that posters above indicate. It's nostub and can be played in Doors CS 7, from MirageOS, or from the homescreen.

Reply to this comment
27 September 2010, 12:51 GMT





Re: Re: Sylvan Z Releases Space Dash 1.2
squidgetx

The screenshot is of the nostub version
The executable included with the zip is for MOS

Reply to this comment
27 September 2010, 19:22 GMT





Re: Re: Re: Sylvan Z Releases Space Dash 1.2
squidgetx

Like kevin said, the source can be compiled with Axe to any shell you want (except Application, as this game using some smc tricks). I just chose MOS as the shell to have the executable run in for the release since MOS has the most compatibility with the current shells (I dislike Ion) lol

Reply to this comment
27 September 2010, 19:40 GMT



Re: Re: Re: Re: Re: Sylvan Z Releases Space Dash 1.2
squidgetx

right, we discussed on irc but for people curious, I meant that MOS is the lowest shell that anyone will be using. DCS7, the other major shell, will be able to run it whereas if I compiled for nostub or pure DCS, one of the two wouldn't be able to run it

Reply to this comment
27 September 2010, 20:54 GMT





Re: Re: Re: Re: Re: Sylvan Z Releases Space Dash 1.2
Kevin Ouellet
(Web Page)

Yeah, because Mirage/Ion won't run nostub/dcs7 programs. I think some Ion programs crashes in Mirage too (like The Core Of Light)

Reply to this comment
27 September 2010, 21:54 GMT





Re: Re: Re: Re: Re: Re: Sylvan Z Releases Space Dash 1.2
ztrumpet

I generally compile my programs for Ion, as then the programs can be run with Asm( or in any shell. =)

Reply to this comment
28 September 2010, 02:27 GMT



Re: Re: Re: Re: Re: Re: Re: Sylvan Z Releases Space Dash 1.2
Kevin Ouellet
(Web Page)

Strange... some Ion games won't run with Asm() or even crashes. Example is Ztetris.

Reply to this comment
28 September 2010, 02:43 GMT



Re: Re: Re: Re: Re: Re: Re: Re: Sylvan Z Releases Space Dash 1.2
darl 181

Is it that much of a problem? It runs. It works. What else do you need from a game? Besides, you could just recompile it to a different shell--No Shell, Ion, MOS, DCS, or APP.

Reply to this comment
28 September 2010, 14:50 GMT



Re: Re: Re: Re: Re: Re: Re: Re: Re: Sylvan Z Releases Space Dash 1.2
Kevin Ouellet
(Web Page)

I was just replying to the comment saying Ion programs also runs nostub. I wasn't saying the shell is a problem.

Reply to this comment
28 September 2010, 16:36 GMT





Re: Re: Re: Re: Re: Re: Re: Re: Re: Sylvan Z Releases Space Dash 1.2
Kevin Ouellet
(Web Page)

To add to my previous comment, we cannot recompile existing games to other shells if the source is not available and/or if they are dependent on those shell routines, anyway.

Reply to this comment
28 September 2010, 16:43 GMT



Re: Re: Re: Re: Re: Re: Re: Re: Sylvan Z Releases Space Dash 1.2
KermMartian
(Web Page)

They shouldn't run with Asm(); Ion contains a set of eight routines that the programs need in order to function correctly. :)

Reply to this comment
28 September 2010, 15:59 GMT



Re: Re: Re: Re: Re: Re: Re: Re: Re: Sylvan Z Releases Space Dash 1.2
Kevin Ouellet
(Web Page)

Ah ok, but I always thought "nostub" meant that the program absolutely have to be compatible with Asm(prgmNAME) syntax?

Reply to this comment
28 September 2010, 16:35 GMT





Re: Re: Re: Re: Re: Re: Re: Re: Re: Sylvan Z Releases Space Dash 1.2
Jamboozle

Axe doesn't use calls to shell routines and so Axe programs compiled to Ion can be run from the homescreen as well. This is becasue most of the shell routines are either not compatible with the Axe routines or don't take the correct input and output. This is all assuming you are not using inline assembly or libraries which can be used to make shell calls.

Reply to this comment
28 September 2010, 23:25 GMT





Re: Re: Re: Re: Re: Re: Re: Re: Sylvan Z Releases Space Dash 1.2
Benjamin Moody

Ion programs *can* be written so as to be executable from the home screen (using the XOR A header), but it requires some care: obviously, you can't use any of the Ion libraries, you're limited to 8k, and you can't do writeback reliably, but there are some less-obvious differences between the way the homescreen executes programs and the way a shell would. So I can't really recommend it for most programs.

Reply to this comment
1 October 2010, 03:57 GMT





Re: Re: Re: Re: Re: Re: Re: Sylvan Z Releases Space Dash 1.2
Benjamin Moody

One point that's often missed about MirageOS (and DoorsCS) versus Ion is that MirageOS programs can use the MirageOS library routines regardless of how large the program is. Not true for Ion programs: the Ion libraries will only work if your program is smaller than 8k minus a bit.

Reply to this comment
1 October 2010, 04:07 GMT