Robot War: Project Darkstar
Posted by Travis on 22 September 2010, 19:59 GMT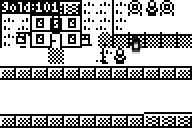 Next in our chain of retroactive program features is a massive CrASH RPG for ROM version 19.0 TI-82s created by Brady R. Mayes a few years ago. Robot War: Project Darkstar is a stategic role-playing game with some nice graphics and animation effects. You play Edgar, whose role is to use an army of robots to stop his arch nemesis from controlling the weather and destroying the world. The game allows exchanging saved games and battling with a friend over the link cable. Source code is also included.
Reply to this article
The comments below are written by ticalc.org visitors. Their views are not necessarily those of ticalc.org, and ticalc.org takes no responsibility for their content.
Re: Robot War: Project Darkstar
schoolhacker hacker

this sounds amazing actually...
considering that it is on a TI-82 as well!

i would love to try it... but then i only have a TI-84 lol

Reply to this comment
22 September 2010, 20:32 GMT





Re: Re: Re: Robot War: Project Darkstar
calcdude84se

Unfortunately, it's rather slow, and doesn't work on a number of newer 84+(SE)'s, not to mention you have to have an I/O-based cable, not a USB one, to install CrASH. :(
Better than nothing, though.

Reply to this comment
23 September 2010, 01:34 GMT





Re: Re: Re: Re: Robot War: Project Darkstar
darl 181

Really? One would think that a POTY winner would run about the same...if not faster...

Reply to this comment
23 September 2010, 14:52 GMT





Re: Re: Robot War: Project Darkstar
TC01

It's being ported to the 83+/84+ series as well.

Reply to this comment
23 September 2010, 12:20 GMT



Re: Re: Re: Robot War: Project Darkstar
ztrumpet

I can't wait for this port to come out! Also, there's a Robot War 2 coming out that'll be great as well.

Congrats Digitan! =)

Reply to this comment
25 September 2010, 01:35 GMT





Re: Re: Re: Robot War: Project Darkstar
Compynerd255
(Web Page)

That's really good news. I looked at the documentation for this game and it looks epic. It appears to be very in-depth, and I like the idea of the different attacks and positioning maneuvers, not to mention the Action Commands (like I use in DIE FIEND).

If this port does not come out for some reason (I understand that most of us are high school students with hard classes), someone can always use the source code that the author so graciously provided (just change the equates and call ION routines instead of CrAsh ones.)

Reply to this comment
27 September 2010, 14:30 GMT
Re: Robot War: Project Darkstar
Kevin Ouellet
(Web Page)

One of the best calc RPG/adventure game of the 2000s! I'm glad it's finally featured. Outside United-TI it has been one of the most underrated game for calcs, partly due to the platform on which it was released and the fact it doesn't work on any ROM besides 19.0 (I got a 16.0 D:)

Nice job Digitan000!

Reply to this comment
23 September 2010, 04:21 GMT





Re: Re: Robot War: Project Darkstar
Compynerd255
(Web Page)

You know, with all of these programs of yesteryear being featured, I wonder how fair it will be to do Program of the Year for some of these. I suggest to the ticalc staff that they do two Programs of the Year: one for 2010, and one for Yesteryear 2010. This program is deserving of a POTY, but it would be unfair if it overrode a program released this year.

Reply to this comment
27 September 2010, 14:33 GMT
Re: Robot War: Project Darkstar
TheStorm

Wow, I'm really surprised this wasn't featured when it came out, Robot War is one of the coolest projects I'd ever seen. Though is is a shame that the platforms it will run on are so limited.

Reply to this comment
27 September 2010, 18:20 GMT