Another Classic: Contra 83
Posted by Travis on 24 August 2010, 03:45 GMT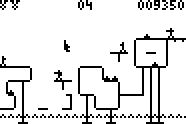 It's not very often that pure-BASIC games are featured. Bryan Thomas's Contra 83 was one that got a lot of attention back around the time it was released. As a remake of the NES platformer Contra, it demonstrated that much more than people expect can be accomplished without the use of ASM libraries.
The game features six multi-screen levels, enemies, weapon upgrades, three difficulty levels, bosses, a high score system, and saving/loading. The speed is very impressive for TI-BASIC-only code, and each new screen loads and appears in mere seconds.
Reply to this article
The comments below are written by ticalc.org visitors. Their views are not necessarily those of ticalc.org, and ticalc.org takes no responsibility for their content.
Re: Another Classic: Contra 83
Kevin Ouellet
(Web Page)

WOW! It was about time! (No offense intended)

I think this game really deserves its feature. One of the very rare BASIC game to do. I played this back in the days and it was pretty nice, except that the first boss was hard XD

I wonder if this is the first ever TI-83+ pure BASIC game to ever get featured, though? The last pure BASIC game that got featured was Final Fantasy Destination, I think, in 1999.

Reply to this comment
24 August 2010, 04:12 GMT





Re: Re: Another Classic: Contra 83
Kevin Ouellet
(Web Page)

Actually nevemind, Kerm's Civsim was featured in 2004

Reply to this comment
24 August 2010, 04:23 GMT
Re: Another Classic: Contra 83
builderboy2005

An amazing game :) I'm glad it finally got the recognition it deserved. Its a great achievement in Basic and i think should be inspiring for all Basic programmers out there.

Reply to this comment
24 August 2010, 18:34 GMT





Re: Re: Another Classic: Contra 83
Kevin Ouellet
(Web Page)

If you don't like stuff with multiple files, this game is unfortunately not for you. Otherwise, I personally liked it a lot, considering no single line of ASM code was used in the game.

Reply to this comment
26 August 2010, 08:04 GMT





Re: Re: Re: Re: Another Classic: Contra 83
tifreak8x
(Web Page)

You shouldn't let that dissuade you from playing a game. If so, you are going to miss out on a lot of amazing games that are available for play.

Reply to this comment
27 August 2010, 02:01 GMT





Re: Re: Re: Re: Re: Another Classic: Contra 83
ASHBAD_ALVIN

To tell the truth, it's a really fun game for BASIC, though the files can get kind of annoying when you try to get rid of them to clear up space. Here's what I did:

Group CINSTALL and CINSTAL2 into one group (these programs "insstall" he other files -- so keep these handy)

When you're done playing contra, delete all of the contra associated files 1 by 1 (takes a few minutes)

Ungroup the group that hold the two installing programs and the other group that holds the other file (comes already grouped) and play again.

It's fun for a little while, so just take a small peek at it.

Reply to this comment
5 September 2010, 18:01 GMT