Block Dude Available for the Nspire
Posted by Travis on 19 August 2010, 05:47 GMT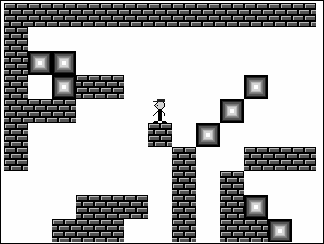 Danny C. has created a TI-Nspire version of the classic TI-83 Plus platform puzzle game Block Dude by Brandon Sterner, which was ported to several calculators and included in PuzzPack. Powered by Ndless, this game has 16-level grayscale graphics and includes the 11 original levels and source code. The object of the game is to reach the door at the end of each level by moving blocks around to create a traversable route.
Reply to this article
The comments below are written by ticalc.org visitors. Their views are not necessarily those of ticalc.org, and ticalc.org takes no responsibility for their content.



Re: Re: Block Dude Available for the Nspire
Zarel
(Web Page)

Who, TI-84 users? You have like the most programs out of any of the TI calculators. :/

Reply to this comment
19 August 2010, 12:48 GMT





Re: Re: Re: Block Dude Available for the Nspire
Kevin Ouellet
(Web Page)

Wow, Zarel is a nickname I haven't seen in a LOONG while. I think I last saw you in #tcpa around 2005.

Reply to this comment
22 August 2010, 02:41 GMT





Re: Re: Re: Re: Block Dude Available for the Nspire
JBB

Hi Zarel, it's been a long time. Seems like you quit posting about 2 years before TI in their infinite stupidity closed their boards.

Reply to this comment
23 August 2010, 09:35 GMT



Re: Re: Block Dude Available for the Nspire
apcalc

If you mean the 89 is not getting any good games, I am working on a sequel to this game (for the 89 and Nspire) called Trapped. There is not really a point to making Block Dude for the 89 because there are already two versions of it for those calculators. Trapped is currently available for the TI-83/84 family. It is called "Trapped!" in the ticalc archives. Hopefully, these two versions of Trapped will be ready soon!

Reply to this comment
19 August 2010, 14:19 GMT
Re: Block Dude Available for the Nspire
ztrumpet

Wonderful! Congrats apcalc, you deserve it.

For those that don't know, he's currently working on Trapped for the Nspire. =)

Reply to this comment
19 August 2010, 13:59 GMT





Re: Re: Block Dude Available for the Nspire
Kevin Ouellet
(Web Page)

Yeah it's featured there, as well as CalcGames.org (despite calling it TiCalc.org). Quite ironic they feature game sites with what they do to Ndless and the Nspire, eh?

Reply to this comment
21 August 2010, 02:42 GMT





Re: Re: Re: Block Dude Available for the Nspire
The_One_Guy

It was already on my TI-84+Silver when I bought it (new; still in the package).

Reply to this comment
27 August 2010, 15:34 GMT
Re: Block Dude Available for the Nspire
bwang

Nice to see this finally got a feature :D

Reply to this comment
21 August 2010, 21:32 GMT
Re: Block Dude Available for the Nspire
Agentx002
(Web Page)

Has anyone found 1.1 yet? I know mentioning it gets you a beating from TI, but I have 2.0 and I wanna see just how fast the nspire is! ASM on the most powerful calc around?! The only reason i bought it was because i saw an article saying nspire can use asms maybe a month ago and finally got me a nspire touchpad. (btw that touchpad mouse ownz)

Reply to this comment
13 September 2010, 23:04 GMT





Re: Re: Block Dude Available for the Nspire
apcalc
(Web Page)

OS 1.1.9253 is not very hard to find on the internet. Google is your friend! Also, if you have the touchpad, you will need to purchase a clickpad keypad in order to run OS 1.1.9253.

Reply to this comment
25 September 2010, 01:35 GMT