Laser Tank 1.7
Posted by Travis on 12 July 2010, 19:09 GMT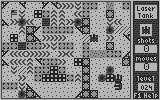 As this time of year tends to be fairly quiet in the TI calculator world, it may be a good time to begin taking a look at some of the impressive, but for some reason never featured, older files in the archives that visitors have suggested to us. One of these is Laser Tank 1.7 by Marvin Thorman, a TI-89/89t/92+/v200-compatible grayscale puzzle game where the object is to get your tank safely through an obstacle course to the flag in the fewest possible number of moves. The maps are filled with tiles of various types and behaviors, requiring the use of a variety of strategies to make it through.
The game boasts nearly 200 included levels, a level editor, and a high-score list. The game also has a built-in help feature making it easier to learn the game, and source code is included.
Reply to this article
The comments below are written by ticalc.org visitors. Their views are not necessarily those of ticalc.org, and ticalc.org takes no responsibility for their content.
Re: Laser Tank 1.7
Kevin Ouellet
(Web Page)

Wow that looks interesting. I should give this one a try on my 89T at one point.

Reply to this comment
12 July 2010, 19:19 GMT



Re: Re: Re: Laser Tank 1.7
Dh258
(Web Page)

Because the 89 has a better...well, just about everything.

Going to throw this on my 89 later... however I may have to delete pokemon... :(

Reply to this comment
12 July 2010, 22:16 GMT





Re: Re: Re: Re: Laser Tank 1.7
Steve Randle

You delete programs?!? I always thought that you had so much RAM that you could let your programs sit there for years without archiving them.

Reply to this comment
14 July 2010, 02:24 GMT





Re: Re: Re: Re: Re: Laser Tank 1.7
Kevin Kofler
(Web Page)

There's only 256 KiB of RAM on all TI-89 family models. There's plenty of archive memory on the Titanium, but not on the regular TI-89, which only has 2 MiB of total FlashROM (the Titanium has 4 MiB), most of which is used by the OS (AMS).

Reply to this comment
14 July 2010, 17:13 GMT





Re: Re: Re: Re: Re: Re: Laser Tank 1.7
Marvin Thorman

I actually archive my programs when I find one I know I want to keep. It runs just fine from archived memory, and allows me to keep more programs on my calculator. Another added feature, is that archive programs do not get deleted if your calculator crashes. When I developed LTank, I kept one of my TI89 simply as my beta testing calculator. I would archive the program, and then if there was a memory leak or some other bug that caused the program to crash or not respond, a reset of the calculator left the program intact so I could run it again to see if I could duplicate the bug. There is also a memory management program for the TI89 hardware 1's I believe that allows you to access more memory for programs.

Reply to this comment
19 July 2010, 23:31 GMT





Re: Re: Re: Laser Tank 1.7
Steve Randle

Actually, there are several cool programs for the 83+/84+ as well. But they're never featured for some reason...

Reply to this comment
14 July 2010, 02:22 GMT





Re: Re: Re: Re: Re: Laser Tank 1.7
Someone Someone

Greyscale makes fast games slow on the 83/84 without optimal coding. More memory needed to store data too.

Reply to this comment
14 July 2010, 16:32 GMT