Ncaster: Nspire Raycasting Engine
Posted by Travis on 7 June 2010, 00:49 GMT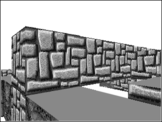 Bayley Wang (who had previously released a TI-Nspire Ray Tracer Demo) has released Ncaster, an Nspire raycasting engine designed to be used in the creation of Doom-style games in C. It shows off the power of the Nspire's hardware: Sprites, textures, and vertical movement are supported, and blocks may be of variable height and have variable-resolution textures. Check out Ncaster's file info page for some animated screenshots.
Reply to this article
The comments below are written by ticalc.org visitors. Their views are not necessarily those of ticalc.org, and ticalc.org takes no responsibility for their content.





Re: Re: Ncaster: Nspire Raycasting Engine
Steve Randle

Me neither...mind you, if I had an NSPIRE, this would be one of the first programs i would get.

On a side note, I didn't know the NSPIRE could program in C.

Reply to this comment
7 June 2010, 01:45 GMT
Re: Ncaster: Nspire Raycasting Engine
Lewk
(Web Page)

Is there any chance of vector based maps being supported in the future so we can see a real Doom port to a graphing calculator? :)

Reply to this comment
7 June 2010, 02:37 GMT
Re: Ncaster: Nspire Raycasting Engine
Brandon Wilson
(Web Page)

Pretty sweet-looking...I have no doubt we've barely touched the surface of what's possible with the Nspire hardware.


Reply to this comment
8 June 2010, 03:09 GMT

Copyright © 1996-2012, the ticalc.org project. All rights reserved. | Contact Us | Disclaimer