Pyoro Makes an 83+/84+ Appearance
Posted by Travis on 5 January 2010, 23:11 GMT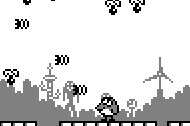 Here's another fast-paced TI-83+/84+ action game from Kevin Horowitz: Based on a minigame from Nintendo's WarioWare, Inc., Pyoro demands fast reflexes as well as accuracy as you shoot at the falling fruit. Better not miss or you'll find yourself more and more constrained as the fruit begins destroying the floor on impact! It will destroy you, too, if you happen to be in the way. The game is intended to run using Ion, Mirage OS, or the native ASM support, and Kevin is interested in any feedback.
Update (January 26): Pyoro has been updated. It is now a Flash application.
Reply to this article
The comments below are written by ticalc.org visitors. Their views are not necessarily those of ticalc.org, and ticalc.org takes no responsibility for their content.
Re: Pyoro Makes an 83+/84+ Appearance
nonexistent

Foist.

I noticed this in the new file section and tried it out a few days ago. It works perfectly and is a lot of fun to play, but it crashes constantly.

I have an 84+ SE, OS 2.40 running MirageOs. When running the Mirage file the game will randomly lock up and clear the RAM.

I have tried this on DoorCS, ChrunyOS, and MirageOS with no success. I haven't tried the Ion or nostub versions yet to see if they work. As far as the timing of the crash it is completely random, but always seems to occur within at least a minute. I have been unable to replicate it under any conditions. It's probably a bug in one of the core routines, seeing as it will crash even when I don't move or shoot anything, as well as when I do.

Great game though.

Reply to this comment
5 January 2010, 23:56 GMT



Re: Re: Pyoro Makes an 83+/84+ Appearance
calc84maniac
(Web Page)

It turned out that it was an issue with the interrupt vector table - he has fixed it and the next release should be more stable.

Reply to this comment
6 January 2010, 00:49 GMT





Re: Re: Re: Pyoro Makes an 83+/84+ Appearance
schoolhacker hacker
(Web Page)

really???
i tried it out on the first day...

and it seems flawless... :)

Reply to this comment
6 January 2010, 03:13 GMT



Re: Re: Pyoro Makes an 83+/84+ Appearance
elfprince13
(Web Page)

So what you're saying is.....it works perfectly and it crashes a lot?

Reply to this comment
6 January 2010, 04:40 GMT





Re: Re: Re: Pyoro Makes an 83+/84+ Appearance
BZRatfink

That's what it looks like he's saying. Seems like a contradiction, but maybe it's just quantum mechanics kicking in to high gear.

Reply to this comment
8 May 2010, 01:24 GMT



Re: Re: Pyoro Makes an 83+/84+ Appearance
Jamboozle

Hi everyone!

I'm really sorry about the crashes. I only own an 84+ (not SE) and a debugger of the same calculator. I assumed since it worked on that, it would work on every calculator! Boy, was I wrong :(

So anyway, I've fixed the problem now and made a few other interesting improvements (Music added from the original game!). I've re-submitted it and I'm just waiting for it to be approved.

Reply to this comment
6 January 2010, 07:55 GMT





Re: Re: Pyoro Makes an 83+/84+ Appearance
NecroF-_-ckk

I still have the first version on my calc. TI84+/ latest OS / DoorsCS 6 and it works fine for me. Not one single crash.

Reply to this comment
7 January 2010, 23:41 GMT





Re: Re: Re: Pyoro Makes an 83+/84+ Appearance
nonexistent

Looks like the problem was SE only.
Anyways, can't wait to download the new release.

Reply to this comment
8 January 2010, 19:07 GMT
Re: Pyoro Makes an 83+/84+ Appearance
mdsb
(Web Page)

Looks similar to an older form of game I encountered in various forms.
Though those games have like a movable bar at the bottom instead of a frog, like stationary blocks above instead of fruit that drops, and a ball that bounces off of the bar and blocks.

It also seems somewhat similar to scrolling shooters.


Reply to this comment
6 January 2010, 00:07 GMT
Re: Pyoro Makes an 83+/84+ Appearance
schoolhacker hacker
(Web Page)

sweet!
i mean this game is sweet!!!

i downloaded it the first day it came out...
played it and loved it!

its got to be one of the best greyscale games on the TI84

he also makes many other great games too... puyo puyo is nice... though the highscore system should be fixed on all of them... since you have to either unarchive it manually or archive it after playing...

Reply to this comment
6 January 2010, 03:12 GMT





Re: Re: Pyoro Makes an 83+/84+ Appearance
crudedude5188
(Web Page)

Congrats Kevin. Indeed he does have a new version out. You can check it out at RevSoft check my url or I'm sure he'll have it released on ticalc soon enough. He also has a version with sound at RevSoft if you wanted to give that a try. Both are in the announce your project section of the forum. Again this is a great addition to the small grayscale games already out there! Keep it up I cant wait to see what you come up with next.

Reply to this comment
6 January 2010, 05:44 GMT
Re: Pyoro Makes an 83+/84+ Appearance
Kevin Ouellet
(Web Page)

Interesting game and great looking. I'll have to try that sometimes

Nice to see some new programmers in the scene too.

Reply to this comment
6 January 2010, 08:54 GMT
Re: Pyoro Makes an 83+/84+ Appearance
ZagorNBK

Nice game!
Sadly, it uses routines that arn't supported by the N-Spire emu... Would it be possible to release a N-Spire compatible version? That would be great!

Reply to this comment
6 January 2010, 18:47 GMT





Re: Re: Pyoro Makes an 83+/84+ Appearance
Jamboozle

The next version will be more compatible, I'm ditching the interrupts for more speed and smaller size.

Reply to this comment
6 January 2010, 20:56 GMT





Re: Re: Re: Pyoro Makes an 83+/84+ Appearance
Kevin Ouellet
(Web Page)

Keep in mind that in long term (or hopefully short), such version may no longer be necessary since it is going to be possible to program in ASM on the TI-Nspire soon. I wouldn't be surprised if someone rewrote an entire TI-84+ emulator from scratch for the Nspire with better compatibility than the built-in one, considering there are alerady TI-89 and Gameboy Color ones in the work.

Reply to this comment
7 January 2010, 03:46 GMT





Re: Re: Re: Re: Pyoro Makes an 83+/84+ Appearance
ZagorNBK

Yes, but I'll have to wait for that. And I'm a rather impatient person :P

Reply to this comment
7 January 2010, 16:13 GMT
Re: Pyoro Makes an 83+/84+ Appearance
schoolhacker hacker
(Web Page)

wow cool... another release!?

AND WITH SOUND!?

i can't wait to try it... too bad i dont have a silver link cable... only have a stupid faulty usb for my ti-84 that doesn't work at the moment for no reasons...

Reply to this comment
7 January 2010, 23:06 GMT
Re: Pyoro Makes an 83+/84+ Appearance
Person Dude

Will this work in mulTI?

Reply to this comment
12 January 2010, 21:06 GMT





Re: Re: Re: Pyoro Makes an 83+/84+ Appearance
schoolhacker hacker
(Web Page)

really???
hmm... i didn't know that...

since i dont have an emulator on my computer because i simply dont know how to set one up with the roms and other odd things...

i own a TI-84 and other calcs...

Reply to this comment
29 January 2010, 07:24 GMT