Egypt Comes to 68k Calcs
Posted by Michael on 24 August 2008, 18:01 GMT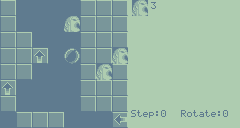 Egypt is a puzzle game for the 89, 92+, and V200. A remake of the original NES game, it has 96 puzzles and grayscale graphics. Stepping on arrows shifts rows/columns of the board, and the objective is to eliminate objects by bringing two of the same type next to each other.
Reply to this article
The comments below are written by ticalc.org visitors. Their views are not necessarily those of ticalc.org, and ticalc.org takes no responsibility for their content.
Re: Egypt Comes to 68k Calcs
Willman722

Sounds fun. Too bad I only have a 83+ :(

Reply to this comment
24 August 2008, 23:46 GMT
Re: Egypt Comes to 68k Calcs
DWedit
(Web Page)

You do know that I made a TI83+ version of this game four years ago, right?
http://www.ticalc.org/archives/files
/fileinfo/345/34585.html

Reply to this comment
25 August 2008, 08:13 GMT