Sumo Wrestle Your Calculator
Posted by Michael on 3 July 2005, 17:08 GMT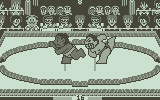 Travis Fischer has released the latest version of Sumo Wrestling, v0.12. This game is the first sumo wrestling game that I'm aware of for the 68k calculators, and it is packed with attention to detail. The sixteen built-in sumo wrestlers (you can create your own) are based upon the actual top-ranked Japanese sumo wrestlers. There's even smack talk! The game should run on the 89, 89 Titanium, 92+, and Voyage 200.
Reply to this article
The comments below are written by ticalc.org visitors. Their views are not necessarily those of ticalc.org, and ticalc.org takes no responsibility for their content.
Re: Sumo Wrestle Your Calculator
Fisch2

Thank you ticalc.org for featuring Sumo Wrestling.

Thanks to everyone who downloaded, helped test, and replied with input! It may take awhile, but, eventually, I'll get around to adding the tournament mode.

Reply to this comment
7 July 2005, 02:45 GMT





Re: Re: Sumo Wrestle Your Calculator
Fisch2

You could always just choose an uneven opponent (select your wrestler as much stronger than your opponent) to even the odds -- and make sure the difficulty is set to easy.

Or, just create a wrestler and max out the stats completely...

Reply to this comment
12 July 2005, 00:19 GMT
1 2

You can change the number of comments per page in Account Preferences.



Copyright © 1996-2012, the ticalc.org project. All rights reserved. | Contact Us | Disclaimer