Atomic Arena
Posted by Michael on 4 June 2005, 04:18 GMT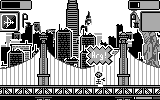 This is one of those retroactive news articles that we post in times of a news drought. Today's program-that-somehow-slipped-past-being-featured-a-month-ago is Atomic Arena by Vincent Corfdir. Available in both English and French versions for the 89, 92+, and V200, this is a side scrolling game much like Mario featuring powerups, bonuses, and lots of enemies. The graphics are very impressive - have a look at some of the animated screenshots on the file information page.
Reply to this article
The comments below are written by ticalc.org visitors. Their views are not necessarily those of ticalc.org, and ticalc.org takes no responsibility for their content.
Re: Atomic Arena
Tzazak

If you have someone to play it with, this is a great game. However, there are a bunch of powerups that I don't know what they do...perhaps an on-calc reference would be handy? Plus, it's hard to play it on one calc because the screen always follows player 1, so player 2 can kinda be left in the dust...it's not exactly fair. Overall, though, way to go Vincent!

Reply to this comment
4 June 2005, 05:47 GMT





Re: Re: Atomic Arena
abigsponge

*sigh* This game only worked in French on my v200, and the AI was terrible. Graphics, on the other hand, were great. Didn't make sprites hard to see or anything...

Reply to this comment
8 June 2005, 05:40 GMT





Re: Re: Atomic Arena
Ranman

Atomic is a very nice looking game. Great work Vincent!

I agree... Fisch did a very nice job on Sumo Wrestling. It deserves some recognition too.

Ya'll keep up the good work!

Reply to this comment
4 June 2005, 16:24 GMT
Re: Atomic Arena
Ben Cherry
(Web Page)

The article seems misleading. This is not a mario sidescroller. This is a mortal kombat style fighting game, which happens to have lots of powerups and side scrolling.

Reply to this comment
5 June 2005, 15:49 GMT



Re: Re: Atomic Arena
Michael Vincent
(Web Page)

Well Mario always seemed like a fighting game to me. You stomp on your opponents like the WWF does...only your opponents are lovable little turtles.

Reply to this comment
5 June 2005, 21:42 GMT





Re: Re: Re: Atomic Arena
saubue
(Web Page)

The Graphics ARE really cool.
But what about games like Chrono Fantasy or TEXAS Fighters? The only thing to say about the GFX of those games is: amazing.

Reply to this comment
8 June 2005, 01:04 GMT
Re: Atomic Arena
paul clayberg

I don't know how to use the english vers.

I go to the var-link page and click on it, can it returns "atomic("
Now what?



Reply to this comment
11 June 2005, 15:49 GMT





Re: Re: Atomic Arena
Sebastian Schmied

add ")" and press enter. :)

Reply to this comment
16 June 2005, 16:27 GMT





Re: Re: Re: Atomic Arena
Pjc_41

Input: Atomic()

Output:
"Error: Program not found."

Reply to this comment
12 October 2005, 14:15 GMT