Labyr v1.0 Released
Posted by Michael on 6 October 2004, 04:29 GMT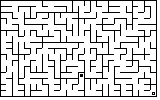 Labyr is a labyrinth generator for the 89, 92+, and V200. The game is fairly self explanatory - work your way to the bottom right corner of the maze.
I spent much time five years ago playing the 83+ counterpart in math class. This type of game can keep you entertained for as long as you need.
Reply to this article
The comments below are written by ticalc.org visitors. Their views are not necessarily those of ticalc.org, and ticalc.org takes no responsibility for their content.
Re: Labyr v1.0 Released
anthony C

This is cool! Glad to see a well-polished maze program move to a new platform. I must say I was a Ti-83+ Labryinth addict myself. If only I had a ti89...

Reply to this comment
6 October 2004, 04:37 GMT





Re: Re: Labyr v1.0 Released
anthony C

Let me say that there is also several other excellent maze games for the ti-89/92/v200, including Ti-Tiltmaze:
http://www.ticalc.org/archives/files/ fileinfo/162/16270.html



Reply to this comment
6 October 2004, 04:41 GMT





Re: Re: Re: Re: Labyr v1.0 Released
PlaidPhantom

Picky, Picky...

The 83+ version was indeed lots of fun. Are there any real differences between the two (i.e. bigger mazes)?

Reply to this comment
6 October 2004, 23:12 GMT
Re: Labyr v1.0 Released
W Hibdon
(Web Page)

I, too, spent many a hour playing the 83+ game. It was a great game, and I particularly loved the "anit-mazes". This game, however, I downloaded yesterday. There is nothing really that extrodnary about it over other maze games....

-W-

Reply to this comment
6 October 2004, 14:09 GMT
Re: Labyr v1.0 Released
Dr_Enigma

The 83+ version was great! If this one is anything like the 83+ one, GET IT.

Reply to this comment
12 October 2004, 14:47 GMT