"Corrupted Memory" Game Demo
Posted by Michael on 20 June 2004, 17:26 GMT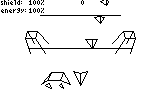 Contrary to its name, Corrupted Memory is a harmless 89 game that's currently under development. The available demo only allows the user to shoot at one level of 3-D enemies. In the readme, Paul Houser lists "Not give up this project like my other ones" as an item in a "things to do" list. Hopefully, he doesn't.
Reply to this article
The comments below are written by ticalc.org visitors. Their views are not necessarily those of ticalc.org, and ticalc.org takes no responsibility for their content.
Re: Corrupted Memory Game Demo
Paul Houser
(Web Page)

Oh wow. And I actually was going to give this up in favor of more devotion to my website. I guess I won't now...

Reply to this comment
20 June 2004, 18:52 GMT



Re: Re: Corrupted Memory Game Demo
Paul Houser
(Web Page)

Level 2 is done. It's super freaking hard, maybe I should make it level 5.

Reply to this comment
20 June 2004, 18:54 GMT





Re: Re: Re: Corrupted Memory Game Demo
Tzazak

You should let us play it. We DEMAND an update. Well, not really, but can you at least tell us how much you've done now?

Reply to this comment
24 June 2004, 00:33 GMT





Re: Re: Re: Re: Corrupted Memory Game Demo
Paul Houser
(Web Page)

Jumping (actually it's more of a barrel roll), high scores, one more enemy, two more types of weapons, have of level 3, and some other junk (like a menu) are completed. I haven't posted anything at this very moment, but when I do, the latest versions of Corrupt will be at the address linked to above.

Reply to this comment
24 June 2004, 02:02 GMT





Re: Re: Corrupted Memory Game Demo
KermMartian
(Web Page)

I noticed that two days ago - it looks pretty sw33t.
One bug - if you shoot multiple shots, the extra ones disappear when one hits a target.

Reply to this comment
20 June 2004, 21:32 GMT





Re: Re: Re: Corrupted Memory Game Demo
Paul Houser
(Web Page)

Are you sure? I haven't seen that happen and can't reproduce it. Maybe I accidently fixed it since the demo was released, that happens a lot to bugs.

Reply to this comment
20 June 2004, 21:47 GMT





Re: Re: Corrupted Memory Game Demo
Paul Houser
(Web Page)

I wish they had waited for me to release a non-demo version. Even if I had released 0.2.5-8 (current version), it would have been better.

Reply to this comment
20 June 2004, 19:57 GMT
Zaaxon
geologie

I looks like one of my favorite ATARI 2600 game : ZAAXON; do you base your game on this old one?

Reply to this comment
20 June 2004, 21:54 GMT





Re: Zaaxon
Paul Houser
(Web Page)

Actually I didn't, but it wouldn't take much to make it more like Zaxxon... I could completely implement the ability to fly up/down, and then just turn the camera 30 degrees to the right... it'ld be very similar.

Reply to this comment
20 June 2004, 22:33 GMT
Re: Corrupted Memory Game Demo
randomperson

Hey,i think your game is awesome already, keep up the great work!
A few things though:

-Any shots you fire at things too far away in the distance have no effect.
-it isnt very hard yet, but thats not a difficult thing to change...
-jumping isnt implemented yet is it

Besides that, i think this game is really cool. It would be almost exactly like starfox or sumthing if you made the ability to move up and down... only then the enemies would be easier to dodge and stuff... iono, just an idea.

Great job on this game!

Reply to this comment
21 June 2004, 02:28 GMT





Re: Re: Corrupted Memory Game Demo
Paul Houser
(Web Page)

The reason for the shots disappearing at a distance is that each weapon blast has a certain amount of energy before it disappears. The laser blast will go 100 pixels without dissapearing, but the end of the 3D screen is 150 pixels... the bad 3D rendition gives the illusion that the lasers are actually hitting things they are not. I had the feeling I might get this response, so I changed the laser energy so that it would last 150 pixels.

Moving up and down will most likely be the next step. I'll just have the enemies move too.

Thanks for the input!

Reply to this comment
21 June 2004, 13:34 GMT
Re: Corrupted Memory Game Demo
Tzazak

I saw this a few days ago. I watched the animated screenshot, thought I should download it, and then forgot about it. Then I thought about it again later but couldn't get back on to the computer. Here it goes! *Downloads program*

Reply to this comment
21 June 2004, 17:22 GMT





Re: Re: Corrupted Memory Game Demo
Tzazak

Ok, I've played it now. It's awesome! I have to go look up the key to recharge shields though. I'm glad level 2 is done. You should make a level editor and have your levels be the default level set. I know if you were going to do that it would be easier if you made it like that originally, but oh well. I guess I won't make my own levels.

Reply to this comment
21 June 2004, 17:40 GMT





Re: Re: Re: Corrupted Memory Game Demo
Paul Houser
(Web Page)

Well, it wouldn't be difficult to write, because of the way levels are set up, but I'm really not in the mood.

Reply to this comment
21 June 2004, 21:40 GMT
Re: Corrupted Memory Game Demo
randomperson

Hey! This game is, as i have said before, awesome. I have a few more questions though...

-When can we expect a newer release? Not that i want you to hurry and risk making it bad or anything, im just curious.

-Can you make a game speed option for changing how fast the game goes? After all, it shouldn't be to hard... just adjust the OS timer or whatever you used (im too lazy to check the source). It would really make this already-awesome game better.

-Just a potential idea, call me crazy, but once youre done with the general engine and levels and whatever you want, maybe you could make the ability to do tricks like flips and stuff for extra points. Or not. Whatever.

As i have said, great game!



Reply to this comment
21 June 2004, 22:59 GMT





Re: Re: Corrupted Memory Game Demo
Lewk Of Serthic
(Web Page)

I've never seen you here before (well, you know what I meant).

Reply to this comment
22 June 2004, 01:51 GMT
New Versions!
Paul Houser
(Web Page)

Hey kids! I created a folder on my website that will have the latest available versions of Corrupt in it! [Exclamatory phrase]!

As of June 22 there is nothing posted, but I promise that when I finish level 3, I'll upload that version. Right-oh? Radical. The folder is linked to in the URL above.

Reply to this comment
24 June 2004, 02:09 GMT
Re: Corrupted Memory Game Demo
adamvio

Dont Worry, there are many other people out there that have a problom of sticking to one project!!!

Reply to this comment
25 June 2004, 14:47 GMT