Build an Empire with Civ89
Posted by Michael on 24 May 2004, 21:01 GMT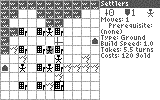 Civ89 for the 89/92+/V200 (despite its name) is a Civilization-style game. The goal is to obliterate your opponent when he or she has no units or cities remaining. It is playable between two people on one calculator. Before the complaints come in, yes I know that it was released twelve days ago.
Update (Joey): This game has been updated with a number of minor bug fixes. Read the readme file for more information.
Reply to this article
The comments below are written by ticalc.org visitors. Their views are not necessarily those of ticalc.org, and ticalc.org takes no responsibility for their content.
Re: Build an Empire with Civ89
Ced McD

How can you have 2 people play on 1 calc without the screen getting crowded, or is there no scrolling? Looks like fun though.

Reply to this comment
24 May 2004, 21:16 GMT





Re: Re: Build an Empire with Civ89
Tzazak

It's turn-based, so you pass it around.
I've got a few problems with it, though, if anyone's still reading the forums this long after the news item. I put it on my calc with the tech tree stuff and two maps. It ran fine when Black researched horseback riding. Then gray researched Literacy and it said "Cannot find file or program". Does anynoe know what's wrong?!?!?!

Reply to this comment
3 June 2004, 21:24 GMT





Re: Re: Re: Build an Empire with Civ89
Tzazak

Never mind. It must just be a bug in the memory or something. That scenario I wrote about above was on very little memory compared to the memory it told me to use the second time I ran the program. Weird. Anyway, it works fine now.

Reply to this comment
4 June 2004, 02:57 GMT
Re: Build an Empire with Civ89
CajunLuke

I love Civ III, so this ought to be fun!

Reply to this comment
24 May 2004, 21:16 GMT





Re: Re: Build an Empire with Civ89
Lewk Of Serthic

*Sigh* I only have Civ II. What system requirments do you need for Civ III?

Reply to this comment
25 May 2004, 01:30 GMT
Re: Build an Empire with Civ89
Leo Jimenez

Which of the Civilization games that is out there is it mostly modeled after?

Reply to this comment
24 May 2004, 21:33 GMT





Re: Re: Build an Empire with Civ89
William Jacobs

It's modeled mostly after Civilization 2 (the one that I have) but also has a lot of original elements, which can be a good thing or a bad thing depending on your tastes. In particular, more emphasis was placed on the military aspect of play, and the combat system (i.e. the effect of one unit attacking another) is completely different.

Reply to this comment
25 May 2004, 23:55 GMT
Re: Build an Empire with Civ89
archnaid
(Web Page)

Seems to be a good game, it is only hampered by my 89's small screen and poor resolution. Also, anyone who is interested in a free civ game modeled after the Civilization games you can buy, click the link to go to the FreeCiv home. FreeCiv is an open source project to build a free civilization game.

Reply to this comment
24 May 2004, 21:53 GMT
Re: Build an Empire with Civ89
mike White
(Web Page)

[warning very off topic but still worth reading]

I have been looking through the archives and noticed that a basic program (the only program) in the 84+ archives is acualy a 83+ program and doesn't have any specal code for the 84. is this the way it is going to be or is it going to be that only 84+ programs go into that archive and it was just a mistake?

Reply to this comment
24 May 2004, 22:12 GMT





Re: Re: Re: Build an Empire with Civ89
KermMartian
(Web Page)

<shameless plug> Check out Civilization Simulator I for the TI-83/+ </shameless plug>

Reply to this comment
25 May 2004, 16:13 GMT





84basic == 83basic
anykey
(Web Page)

It depends. 84 basic is just like 83 basic, except for the clock functions. If you don't use those functions it's pretty much an 83 basic program.
I still don't see why the 83SE needed replacing. Why couldn't they just develope a completely new calc?

Reply to this comment
24 May 2004, 23:04 GMT





Re: 84basic == 83basic
dabud15

There is a reason why a person would upload a BASIC game into the 84+ section even though it doesn't have any new commands.

Let's say the game is so big to where it develops severe "calculator fatigue" (when the calculator slows down after running a program for a while); the actual program may run INSANELY slow on an 83+. SO slow, to where it's not even fun and the person won't want to play it. HOWEVER it may run perfectly fine on an 84+.

(yes, I realize the 83+SE is as fast as the 84+, but I think that it may have even been worth it <not now, it's too late; but before the 84 came out> to make an 83+SE section made SPECIFFICALLY for those games that can only operate correctly with the faster prossesor.)

Reply to this comment
25 May 2004, 01:46 GMT
Re: Build an Empire with Civ89
mindstorm23

As a past Civ2/Civ3 junkie, I thought the goal of the game wasn't exactly to _obliterate_ the opponent, per se (although that is one way to win). Otherwise it would be closer to Age of Empires. Instead, Civilization involves a complex strategy of ruling your people through different forms of government, making alliances and trade routes, expanding your area of rule, gaining access to resources and money, building up your cities with special structures designed for different purposes, searching for new technologies, and eventually winning the space race. Or you conld take over the world. Either one.

...Um, now that I actually typed all that out, I'm suprised that he would have been able to cram all that into an 68k game. Then again, I haven't even played it (I have an 83), so I have no real idea what's going on. Maybe I should keep my mouth shut...or hands. Hands still. Ok, I'm done.

Reply to this comment
25 May 2004, 00:47 GMT





Re: Re: Build an Empire with Civ89
Tzazak

Quote from article: Before the complaints come in, yes I know that it was released twelve days ago.

What if I want to complain anyway? You have to admit, it really does look like someone is slacking ;)

Reply to this comment
25 May 2004, 16:16 GMT





Re: Re: Re: Build an Empire with Civ89
CajunLuke

One word: finals.

Reply to this comment
25 May 2004, 20:26 GMT