Space Shooters Updated - Phoenix, SolarStriker
Posted by Nick on 23 October 1999, 02:44 GMT
Two programs, both space shooters, have been recently updated.
Phoenix v3.5 has been updated (see screenshot). This version includes compatibility with AMS v1.05 and it fixes some display problems on the 89. Get it for the 89, 92 and 92 Plus.
SolarStriker v0.12 Alpha has been updated to fix a major bug. A "light" version was also released for the 92 and 92 Plus. You can grab it for the 89, 92 and 92 Plus.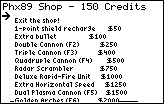 One final note - thanks a ton to Vejita for helping me out a bit in getting this up. ;)
Update (Nick): We recently updated the version of Phoenix to v3.6 in our archives. This fixes another minor bug.
Update (Nick): Not an hour after the release of v3.6, Patrick figured out how to fix a major bug and released a new version. v3.7 is now out. Sorry for the confusion. :)
Sources: Dimension-TI and Vejita