Command Post Released
Posted by Michael on 17 February 2003, 04:34 GMT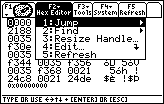 Greg Dietsche has released his utility Command Post for the 89, 92+, and Voyage 200. This flash application provides advanced facilities for 68k developers to debug and test their programs on the calculator. It has anti-crash protection, leak watching, an extensive hex editor, and many other tools. Developers will soon love this program, and everyone now has the ability to examine and learn from the calculator's structure.
The comments below are written by ticalc.org visitors. Their views are not necessarily those of ticalc.org, and ticalc.org takes no responsibility for their content.
must-get-away-from-69---
RCTParRoThEaD_
(Web Page)

Hey Greg, how about adding support for stuff like if a program forgets to use Gray Off(); or other little stupid mistakes and does it for you and notifies you? That might be helpful in the next version if there is a next version, seeing as there is no bugs stated so far. -) <===mike from monsters inc.

18 February 2003, 01:19 GMT



Re: must-get-away-from-69---
no_one_2000_
(Web Page)

Most likely it catches that error, just a guess. -) The next version (whenever it comes out) will also have the hex->ASM thing on it. (farther back in the forum) That sounds really cool.

18 February 2003, 22:23 GMT





Re: must-get-away-from-69---
joelt
(Web Page)

IIRC, CP calls PortRestore(); on default, just in that case.

19 February 2003, 03:26 GMT
Re: Command Post Released
Ronald Teune
(Web Page)

anti-crash protection?
Sounds like microsoft :-P

21 February 2003, 15:09 GMT
1 2 3 4 5

You can change the number of comments per page in Account Preferences.



Copyright © 1996-2012, the ticalc.org project. All rights reserved. | Contact Us | Disclaimer