Sebastian Reichelt Releases Game Package, Advanced AI
Posted by Nick on 3 September 2000, 00:55 GMT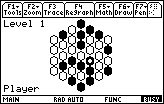 Sebastian Reichelt, creator of many fine ASM and BASIC games (along with a completely unknown program called "TI-GCC"), shot an email at my box saying that he had created a neat little suite of 89 games called Sebastian's Games Package. Written in BASIC(?), this set of programs is noted for a game called "Lights" which has an almost-unbeatable computer AI. Its speed, despite the fact that it's written in a language not even designed for games in the first place, is remarkably fast. Even more outstanding is the fact that its AI calculates all the possible moves, so it never makes any mistakes. An altogether highly challenging game and definitely worth downloading.
The comments below are written by ticalc.org visitors. Their views are not necessarily those of ticalc.org, and ticalc.org takes no responsibility for their content.
Re: Sebastian Reichelt Releases Game Package, Advanced AI
cajunguy
(Web Page)

Actuall, Sebastian released TI-GCC IDE, not TI-GCC. TI-GCC IDE was written in Borland Delphi, and the source is freely available at the URL above. The only drawback to this webpage is that you must have a Passport from MSN to access this page. I am working on a new page, and that should be posted soon.

Aaron Graves

3 September 2000, 01:40 GMT



Re: Re: Sebastian Reichelt Releases Game Package, Advanced AI
JaggedFlame

You could say that he helped release TI-GCC, because the latest version of TI-GCC _includes_ the IDE.

3 September 2000, 04:07 GMT





Re: Re: Sebastian Reichelt Releases Game Package, Advanced AI
Sebastian Reichelt
(Web Page)

This is exactly true. The source for the latest version is available in the ticalc.org archives. A new release is coming soon.

3 September 2000, 09:23 GMT
Re: Sebastian Reichelt Releases Game Package, Advanced AI
Michael Figge

Nick.

I like this news item.

The link to the author's other work...

Good job.

--Michael Figge


3 September 2000, 06:05 GMT



Re: Re: Sebastian Reichelt Releases Game Package, Advanced AI
Nick Disabato
(Web Page)

That's...... ironic.
So it goes.

--BlueCalx

3 September 2000, 10:19 GMT





Re: Re: Sebastian Reichelt Releases Game Package, Advanced AI
Paulo Marques

On the other hand, i wouldn't say "many fine games"... just cause there aren't many!

3 September 2000, 18:56 GMT