Poker v2.05 for the 92 Plus by Greg Schenzel
Posted by Nick on 31 August 2000, 04:02 GMT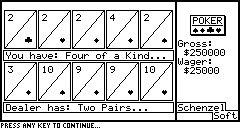 Greg Schenzel emailed me a few days back to inform me of the creation of his (final) game for the 92 Plus, Poker. With some outstanding graphics, Poker is one of the only really fantastic card game out there for the 92 Plus. It's coded in C, so it can theoretically run without dependence on any shell. This new version also includes a considerably reduced file size.
I've always been a fan of any and all card games, so it's nice to see things like this released every so often. Good job! :)
The comments below are written by ticalc.org visitors. Their views are not necessarily those of ticalc.org, and ticalc.org takes no responsibility for their content.
Re: Poker v2.05 for the 92 Plus by Greg Schenzel
Hexalon

looks great. how about a 89 port?

31 August 2000, 04:11 GMT



Re: Re: Poker v2.05 for the 92 Plus by Greg Schenzel
Greg Schenzel

I (the author) don't have time to port it at this time. I failed 'Latin I' last school year, which was a realization for me. Sorry, but I'd be open to a joint port if someone is interested...

31 August 2000, 06:52 GMT





Re: Re: Poker v2.05 for the 92 Plus by Greg Schenzel
Trooper_Max

If I get the time, and I feel like it I <i>might</i> try to port it to the 89... keyword being try... but it shouldn't be too hard...

(I know html doesn't work in here, but I just wanted to show that "might" would be italicised if I could italicise it...)

~Trooper_Max~

2 September 2000, 22:06 GMT
Re: Poker v2.05 for the 92 Plus by Greg Schenzel
Ryan Castellucci

nick's on a posting rampage again...

31 August 2000, 04:14 GMT





Re: Re: Poker v2.05 for the 92 Plus by Greg Schenzel
calcfreak901
(Web Page)

And that's a bad thing?!?!?! In the past month, we've had a total of about 8 news items, often with at least a week in between. Its good to see that we have more newsworthy material. Must have something to do with the start of the schoolyear...:)

e of pi and the unimatrix's 45.59985035114 cents

1 September 2000, 01:03 GMT





Re: Re: Re: Poker v2.05 for the 92 Plus by Greg Schenzel
Dungflinga
(Web Page)

yeah, now that school's started, we don't have all that 'free time' to distract us from doing what's really important... PROGRAMMING OUR CALCS!!!

1 September 2000, 05:03 GMT
Re: Poker v2.05 for the 92 Plus by Greg Schenzel
compman32386
(Web Page)

Yay! Finally poker for my calculator.

PS: Nick, i'm not back yet, i've been useing a friends computer where I am at.

31 August 2000, 04:15 GMT