Programmers Anonymous Updates Guardian
Posted by Nick on 5 April 2000, 05:28 GMT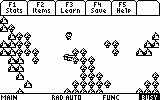 Adam Chard and Aaron Chard of Programmers Anonymous have released an update to an interesting new game in BASIC called Guardian. It hasn't gotten a mention before, but it certainly runs fast for a BASIC RPG. It's quite large but definitely worth the transfer.
Confidential to Kouri Rosenberg: After exhaustive research for the past two nights, I have concluded, with mild reluctance, that you are, in fact, extremely salubrious. In fact, I might go to great lengths to say that you are the pinaccle of salubriousness! *g*
The comments below are written by ticalc.org visitors. Their views are not necessarily those of ticalc.org, and ticalc.org takes no responsibility for their content.
Re: Programmers Anonymous Updates Guardian
Harper Maddox
(Web Page)

Kouri Rosenberg has also improved my well being, Nick. :)

5 April 2000, 06:26 GMT





Re: confidential
Aaron Peterson

Dictionary.com did not have an exact match.

sa·lu·bri·ous (s-lbr-s)
adj.

Conducive or favorable to health or well-being.

------
[From Latin salbris, from sals, health; see sol- in Indo-European Roots.]
----------------------------
sa·lubri·ous·ly adv.

sa·lubri·ous·ness or sa·lubri·ty (-br-t) n.


5 April 2000, 06:36 GMT
Re: Programmers Anonymous Updates Guardian
Kouri
(Web Page)

Er, thanks Nick. I also have done extensive research on salubrity. One interesting thing I noted in particular is that the salubrity levels among the TI community is especially high, as much as 16 times greater than the average human. I hope to publish my findings soon in the May issue of Nature magazine. Look for the article entitled, "A ticalc.org webmaster a day keeps the doctor away".

=)

5 April 2000, 07:55 GMT
Re: Programmers Anonymous Updates Guardian
Mike Grass

Nick, Nick, Nick...

It's salubriousness, not salubriousity!

Just thought I would attempt to rectify your egregious grammatical error! Hehe

:)

5 April 2000, 10:01 GMT





Re: Re: Programmers Anonymous Updates Guardian
Nick Disabato
(Web Page)

I'm at school and first period is about to end, so I'll fix it when I get home.

Thanks for pointing that out... I figured I got it wrong, but it sounded neat nonetheless :-)

--BlueCalx

5 April 2000, 15:35 GMT





Re: Re: Re: Programmers Anonymous Updates Guardian
CircaX
(Web Page)

And I thought that SAT word madness couldn't spread here...

5 April 2000, 20:46 GMT
Re: Programmers Anonymous Updates Guardian
jaymz

It's nice to see you all promoting the less-often used words in the English language but uh... How about that game?

5 April 2000, 22:22 GMT
Re: Programmers Anonymous Updates Guardian
adam chard
(Web Page)

I just noticed the zip file is screwed up on that update. I copied the folder names from my computer when I added the files to the zip. I'll re-update tonight and fix that.

5 April 2000, 22:35 GMT
Offtopic, but may interest some!
Mike Grass
(Web Page)

Funky. That is about all I have to say about Netscape 6. Click on the URL to go to some pictures I made comparing NS6 and IE5.1 with ticalc.org as the webpage. I played with the preview release for about half an hour before going back to IE5. Hopefully the final version will have many improvements.

5 April 2000, 23:51 GMT



Re: Offtopic, but may interest some!
Grant Elliott
(Web Page)

The tables are really the biggest oddity... Nothing else really seems bad.

Isn't Netscape 6 really Mozilla?

5 April 2000, 23:58 GMT





Re: Re: Offtopic, but may interest some!
Mike Grass

Netscape 6 was Mozilla until Netscape bastardized it and it became NS6.

(Yes, that was a valid use of the word "bastardized")

Enjoy!

6 April 2000, 00:29 GMT



Re: Offtopic, but may interest some!
Nick Disabato
(Web Page)

We're aware of this and we're working to fix it.

Sorry about that :\

--BlueCalx

6 April 2000, 01:02 GMT



Re: Offtopic, but may interest some!
JaggedFlame

not much difference... but netscape seems cool... i got it and i'm especially impressed with the cool interface... also that the mail program supports >1 account.

6 April 2000, 01:42 GMT





Re: Offtopic, but may interest some!
Jeff Meister

Heh. Well what do you expect from the browser that's been so behind IE for so long? I can't see why people still use it.

Well... it's better than the AOL browser... which I hear can't even do javascript right, good thing I don't have AOL.

- Jeff

7 April 2000, 22:14 GMT