Florian Clavert Releases Demo of Arkanoid For TI-89
Posted by Nick on 23 December 1999, 21:33 GMT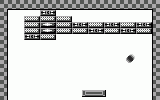 Florian Clavert has released an Arkanoid demo on his home page. This game features grayscale and smooth graphics. It's still in development, but you can download it and check it out. We're looking forward to seeing the final product from Florian!
Source: TINews
The comments below are written by ticalc.org visitors. Their views are not necessarily those of ticalc.org, and ticalc.org takes no responsibility for their content.
Re: Florian Clavert Releases Demo of Arkanoid For TI-89
Patrick Wilson
(Web Page)

Aww, whenever us 86 people think we're elite, all y'all 89'ers come and show us up )c:

23 December 1999, 21:36 GMT





Re: Re: Florian Clavert Releases Demo of Arkanoid For TI-89
Andrew Magness
(Web Page)

Hehe... that made me laugh :)

Hey ticalc... how 'bout addin a Top 100 comments list??


--Andrew

24 December 1999, 07:54 GMT
Re: Florian Clavert Releases Demo of Arkanoid For TI-89
Bobman

Is this demo compatible with ROM 2.03?

23 December 1999, 22:01 GMT





Re: Re: Florian Clavert Releases Demo of Arkanoid For TI-89
florian clavert

No this demo don't work with rom 2.03 sorry

23 December 1999, 22:33 GMT





Re: Re: Re: Florian Clavert Releases Demo of Arkanoid For TI-89
yosweetlady

A good version of this game has been a long time coming for the 89, I just wish it would work with the new AMS. We fools who upgraded want some games too.

23 December 1999, 23:53 GMT





Re: Re: Re: Re: Florian Clavert Releases Demo of Arkanoid For TI-89
amicek
(Web Page)

Can you <b>downgrade</b> back to a lower AMS? 'Cause I am still looking for any <i>good</i> reason to upgrade...Oh and yes I know HTML doesn't work, I just did that so those who have any idea about HTML would know what I am putting emphasis on.
<irony>
I think the lower versions of AMS actually are currently more useful than the higher versions.
</irony>

amicek

24 December 1999, 02:59 GMT
Re: Florian Clavert Releases Demo of Arkanoid For TI-89
math boy

Good job, Florian! I can't wait till the actual version comes out!

23 December 1999, 22:42 GMT





Re: Re: Florian Clavert Releases Demo of Arkanoid For TI-89
florian clavert
(Web Page)

thankX I can't wait to :-)
I love to play games I have made

23 December 1999, 22:51 GMT
Re: Florian Clavert Releases Demo of Arkanoid For TI-89
Kevin Williams

It looks really wierd with the greyscale libs for hw2. Not a lot of movements from what I can tell.

23 December 1999, 22:49 GMT





Re: Re: Florian Clavert Releases Demo of Arkanoid For TI-89
Scott Noveck
(Web Page)

Florian's website notes that he had some conflicts with gray4lib - and considering how much my HW 2.00 cheap hack flickers as it is, I don't think that'll turn out too well =)

Now if only I knew what that conflict he's talking about is. . .

24 December 1999, 02:15 GMT
Re: Florian Clavert Releases Demo of Arkanoid For TI-89
Morvan Le MEUT

Are the graphics from crystball on Supervision ( cheap gameboy-like ) ??

23 December 1999, 23:10 GMT
Re: Florian Clavert Releases Demo of Arkanoid For TI-89
Alapanamo

Wow, I took a look at your home page, Florian, and I must say I really liked the upcoming (maybe) Paint Shop Pro program...the screenshot makes the utility look very promising (a screenshot is worth a thousand words)! Good luck on finishing your TI-89 projects.

24 December 1999, 00:46 GMT