TND: The Next Dimension Released For 89
Posted by Nick on 6 November 1999, 19:17 GMT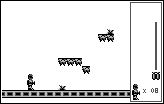 Matt Teiken has released a wonderful side-scrolling game for the 89 called TND (The Next Dimension). You have to defeat enemies with a gun and pick up oxygen tanks along the way so your oxygen doesn't run out. It's quite challenging, and definitely worth a look.
The comments below are written by ticalc.org visitors. Their views are not necessarily those of ticalc.org, and ticalc.org takes no responsibility for their content.
Re: TND: The Next Dimension Released For 89
deuist

Looks great. I'll have to try it out.

First comment again!

6 November 1999, 19:22 GMT
Re: TND: The Next Dimension Released For 89
DWedit
(Web Page)

It is really all that better than SMQ? Also I'd like to see 'metroid 8x'

6 November 1999, 20:26 GMT





Re: Re: TND: The Next Dimension Released For 89
mysteryegg
(Web Page)

There's an idea. While I never owned any of the Metroid games, I still like the theme. (Good ol' Mother Brain.) I'll just be getting TND 89, then...

6 November 1999, 21:21 GMT
Neato!
cambium

I like it! It's very playable, and challenging to boot. (Reminiscent of Penguins.) I can't wait for the level editor! Good job!


- Cambium

6 November 1999, 20:46 GMT
Commercial Games
Scott Noveck
(Web Page)

It's not bad, but is this really the same game that Matt was planning on SELLING? It's certainly not at that worth-paying-for level of quality. . .

6 November 1999, 23:23 GMT





Re: Commercial Games
Nick Disabato
(Web Page)

You're kidding.
Please tell me you're kidding.

I think this is a great game, but certainly not of the caliber that I would pay money for.
SMQ, for example, I would certainly pay money for - provided I actually play games on my calculator anymore :)

--BlueCalx

6 November 1999, 23:32 GMT





Re: Re: Commercial Games
Scott Noveck
(Web Page)

He announced that he would charge for his next game on the Dim-TI community news page (or something like that; it's open to any news from anyone). And from the TND beta's readme file:

"The game is NOT going to be shareware. I thought about some of the e-mails I recieved about the Shareware idea and decided not to go that direction."

7 November 1999, 02:33 GMT





Re: Re: Re: Commercial Games
Erich Oelschlegel
(Web Page)

Ummm...shareware or freeware? This game is certainly not shareware. :)

~ferich

7 November 1999, 05:10 GMT
Re: TND: The Next Dimension Released For 89
yoshii hiro

hmm... it's cool, but I can't get the "ABCD" level string file to transfer to my calc with graph link. I can only play the levels from the old version. Is the level it comes with the same one that is showed in the movie of the game?

6 November 1999, 23:43 GMT





Re: Re: TND: The Next Dimension Released For 89
deuist

yes, the level is the same as the movie.

I haven't sent the game to my calculator, but it works on my emulator. I can't understand why you have problems with it.

7 November 1999, 00:09 GMT
Re: TND: The Next Dimension Released For 89
Jared Seltzer

I try to run this program and it asks for a folder. I tried every folder and no level is found. What do I do?

7 November 1999, 00:12 GMT





Re: Re: TND: The Next Dimension Released For 89
yoshii hiro

make sure you transfer the "abcd" string file to your calc. this is the level file. however, my computer views this file as a text file and won't transfer it to my calc via graph-link. if you have the same problem, you can find the level files from an older version. the game sux bad with those levels though.

7 November 1999, 02:30 GMT
Re: TND: The Next Dimension Released For 89
chrispriest

I this ASM? It probally is. Will it work for v.1.05?

7 November 1999, 00:16 GMT
Re: TND: The Next Dimension Released For 89
chrispriest

I this ASM? It probally is. Will it work for v.1.05?

7 November 1999, 00:17 GMT





Re: Re: TND: The Next Dimension Released For 89
Matt Capucilli

OK, you spell PROBABLY like that, and YOU arent ASM, the game is! Isnt that fun! I think it does work with 1.05 but 1.05 sucks anyway so get 1.00

7 November 1999, 20:31 GMT
Re: TND: The Next Dimension Released For 89
Tyrel Haveman
(Web Page)

Hey, I downloaded this and transfered it to my 89... then I do tndext2() and all I get is Done. Am I doing something wrong? Please help!

7 November 1999, 02:25 GMT



Re: Re: TND: The Next Dimension Released For 89
Nick Disabato
(Web Page)

You probably lack a library necessary to run the program.
You should install DoorsOS or PlusShell before trying to run this.

--BlueCalx

7 November 1999, 02:33 GMT





Re: Re: Re: TND: The Next Dimension Released For 89
Tyrel Haveman
(Web Page)

It worked great, thanks!
This game is REAL good, considdering it fits in the palm of my hand. Now I have something to do in US History class :)


7 November 1999, 03:27 GMT





Re: Re: TND: The Next Dimension Released For 89
yoshii hiro

yep, you didn't install doors os.

7 November 1999, 05:46 GMT