The Blues Brothers are back, from the 80s to your 68ks
Posted by Xavier on 31 October 2019, 22:26 GMT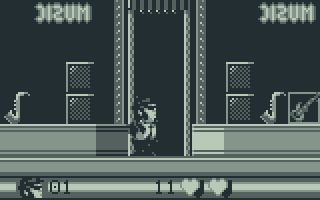 No, really, we're not talking about a pumpkin-carving-simulator program tonight... But guess what? Some ghosts of the glorious TI-68k past come back to haunt us from time to time : earlier this year, we were graced with an upload of a new program in the TI-68k ASM section, namely Blues Brothers 89 by newcomer Adrien Belly. Uploads of new complex TI-68k native code programs have become infrequent, so they're especially newsworthy nowadays!
As you can see in the screenshot, it's a platformer, reimplemented from the computer game of the same name, released starting from 1991 for multiple 80s and 90s computer models. As usual in a platformer, the player needs to pick up bonus items across levels, with various ways to climb / fall / swim, while avoiding / beating up enemies, on a largely linear game progression path. The game is open-source under no license and hosted on Github.
The README links a YouTube video which showcases the great accuracy of Adrien's reimplementation of the game - the two implementations are shown side by side, played one at a time. Of course, on the TI-68k series, the game suffers from the low screen resolution, especially considering that the game is designed to work only on (and is compiled only for) the 89 and 89 Titanium; the wider screen of the 92+ and V200 would make the game a bit easier, but these models are less popular.
At least for now, this implementation seems to provide a single level among the 6 levels of the original game, and does not provide the original game's music, either, which would be possible with PolySnd (though possibly costly in terms of space). Don't let that prevent you from playing this very well-made game, though - just as everybody needs somebody to love, as the Blues Brothers said, this game probably needs your love as well :)
Article written by Lionel Debroux, with input from Adrien "Adriweb" Bertrand.