Jumpman for the TI-68k series
Posted by Xavier on 1 November 2017, 15:16 GMT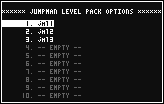 David "Ranman" Randall, another talented developer already featured multiple times in the past for such great pieces of work as re-creating Ultima V: Warriors of Destiny or International Karate 68k for the TI-68k family, is still active. When he found the source code again, after losing it for three years to a hard drive crash and a lost backup drive, he spent time finishing and releasing Jumpman 68k.
Originally made by Randy Glover in 1983 for the 8-bit Atari family, and ported to other 1980s computers, Jumpman is a platformer. You need to guide the character through 30 levels of increasing difficulty, containing girders (which can disappear in some levels), ladders (some of which can move) and ropes... and of course multiple kinds of bullets and alien enemies which get in the way of you fulfilling your mission: destroying bombs (by touching them) as a way to reach the next level and increase your score. You'll soon find that some orders for destroying bombs are more appropriate than others.
Oh, and on most levels, you have no weapons to get rid of enemies, so the only thing you can do is find a way to avoid them... which is easy at first, but requires a fair bit of thought and experimentation on the most advanced levels ;)
Like a number of recently featured programs, Jumpman 68k is open source. It is built with GCC4TI.
EDIT 2017/11/12: David has produced both version 1.01, with optimizations and several bugfixes, and a new level set from Jumpman Junior.
EDIT 2017/11/19: David published version 1.02 of Jumpman, with better support for the 92+/V200's screen size.