Reuben Quest: Lost Between Times, the RPG series rebooted
Posted by Xavier on 31 December 2016, 23:39 GMT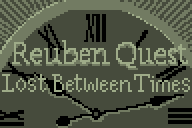 Recently, Sorunome uploaded an update to the Reuben Quest game series for the TI-83+/84+ series: Reuben Quest: Lost Between Times.
The series was originally created by DJ Omnimaga more than 10 years ago, with games already featured here.
Presented as an "epic RPG fantasy adventure which includes tons of puzzles, side-quests, hidden things and much more!", it lives up to the expectations, and you'll find yourself in a well-designed game resembling Pokémon or Zelda.
Sorunome had already created an ASM Reuben Quest game in 2014 (winning the POTY 2014 in its category) and an Axe remake as well, but this time again, this reboot is programmed directly in assembly (and it's open-source!), providing the best experience possible on your calculator, especially for a game of this magnitude. The graphics, animations, maps, fights, etc. in all their greyscale glory, are simply gorgeous - you can see that in the screenshot here or simply witness it on your calculator by downloading it and playing!
Enjoy this great RPG experience on your calculator!
And of course, happy new year!