With ChessCE, will you beat your CE at chess?
Posted by Xavier on 9 October 2016, 19:36 GMT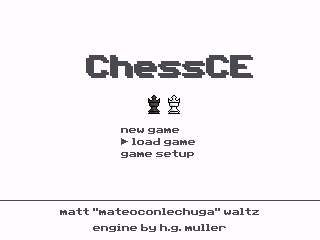 Just a few days ago, Matt "MateoConLechuga" Waltz, very active community member, especially on the TI-eZ80 series, recently uploaded a beautiful chess game for your TI-84 Plus CE / 83 Premium CE, aptly named ChessCE.
Now, chess games on TI calculators aren't as common as your typical quadratic solvers, but they certainly are popular - the most famous of all probably being the TI-68k/AMS TI-Chess, by Thomas Nussbaumer and Marcos Lopez, with more than a quarter million downloads so far! Will ChessCE be that successful?
Well, like TI-Chess, in addition to being able to play with two people on the calculator, you can play against ChessCE's built-in AI, which makes it quite an interesting game duringbetween class or whenever else. In fact, you can even let it play against itself and just watch.
Oh, and of course, games can be saved and loaded back :)
As usual with Mateo's programs, the C source code is available so that everyone can learn from it!
Enjoy, and may the best player win!