Minesweeping on the TI-84 Plus CE
Posted by Xavier on 15 May 2016, 23:17 GMT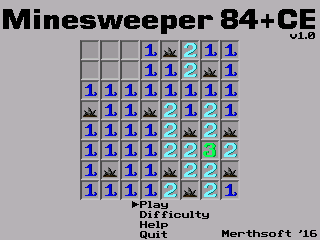 Today's feature is about Minesweeper CE by Shaun "Merth" McFall, a game for the TI-84 Plus CE and TI-83 Premium CE. Like a number of games for those platforms, it is written in C and leverages the common community libraries.
In this quite accurate adaptation of the famous computer puzzle older than a number of us, you may choose between 3 difficulty levels:
beginner : grid of 8x8=64 tiles with 10 mines (15.6%)
intermediate : grid of 11x11=121 tiles with 20 mines (16.5%)
expert : grid of 16x11=176 tiles with 36 mines (20.5%)
Fortunately, the alpha key will let you flag tiles that you think contain a mine, thus preventing you from activating them by mistake. Of course, should you activate an actual mine, you'll lose the game - but it's not always avoidable :P
Note that there's no time limit or highscore system yet.
Minesweeper CE is open-source, so feel free to check it out and learn from it on Bitbucket.