SimCitx for the TI-Nspire!
Posted by Ryan on 16 August 2014, 23:10 GMT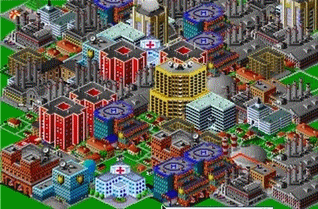 Let's take a look at the facts.

People enjoy simulations
People feel that they could do a "better job" if they were in charge
Graphing calculators are the greatest invention of all time
OF. ALL. TIME.

Where does that leave us? After weeks of arduous calculations, board meetings, and impromptu operas involving monkeys and tragedy, we've finally generated a solution to the gnarly algorithm that includes these facts. The result is clear: SimCitx for the TI-Nspire is a triumph.

Ask any person who grew up in simpler times, and you won't be able to shut them up about their fond memories of creating (and destroying) masterpieces in the prolific SimCity 2000. The fantastic Linkwebmaster has done a fine job in recreating this experience in Lua. You can see for yourself the detail and accessibility in this release with the great use of color, cursor use, and menu layout. It is definitely a "must have" for you calc -- so says the great algorithm!

Admirable work indeed from Linkwebmaster. If you have an Nspire, you need to get this game right now. Please, don't let the monkey opera tragedy be all for naught.
Reply to this article
The comments below are written by ticalc.org visitors. Their views are not necessarily those of ticalc.org, and ticalc.org takes no responsibility for their content.
Re: SimCitx for the TI-Nspire!
Jim Bauwens
(Web Page)

Very nice and impressive work! It also demonstrates that Lua can be used to make some impressive things :)

Reply to this comment
18 August 2014, 12:29 GMT

Copyright © 1996-2012, the ticalc.org project. All rights reserved. | Contact Us | Disclaimer