nQuake!
Posted by Ryan on 17 July 2014, 03:20 GMT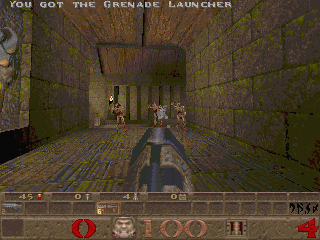 Last November, a certain Ralf Willenbacher came out of the blue and wowed everyone with what ultimately became the ticalc.org TI-89 POTY. Delsgolf was an impressive feat that grabbed the attention of the community far and wide. Presumably causing the Great AAA Battery Shortage of 2013 that our children's children will still be talking about, Ralf went back to the drawing board to create yet another smashing project.
I'll be blunt: if you have a TI-Nspire, you should also have nQuake. Of course, we've already seen the standard hardware litmus test question answered, but Ralf has clearly decided to take it one step further with nQuake. While you shouldn't need anything else to offer a giant "great job!" congratulation to the author, he has also released the source code and a lot of additional details for compiling should you get the build bug yourself. Awesome work, Ralf, and keep it up!
Reply to this article
The comments below are written by ticalc.org visitors. Their views are not necessarily those of ticalc.org, and ticalc.org takes no responsibility for their content.
Re: nQuake!
tifreak8x
(Web Page)

This makes me wonder if some of the older Star Wars Jedi Knight games might be possible on this, though I've heard tell that the source code for Dark Forces II doesn't exist anymore. :<

Looks awesome, though! I really need to figure out how to run ndless and other things on my Nspire so I can play this game :)

Reply to this comment
17 July 2014, 15:39 GMT
Re: nQuake!
Chickendude
(Web Page)

Great job Ralf! It seems like every time you get your hands on a new calc amazing things happen. Don't stop surprising us :)

Reply to this comment
25 July 2014, 23:07 GMT
Re: nQuake!
princetonlion

I saw a guy playing this in the front row of the first science club meeting in school. Good job at making the game!

Reply to this comment
13 September 2014, 04:07 GMT

Copyright © 1996-2012, the ticalc.org project. All rights reserved. | Contact Us | Disclaimer