Minecraft 2D for your Nspire
Posted by Ryan on 29 November 2013, 20:29 GMT
You might want to sit down for this one. Go ahead, pull up a chair. Are you sitting? Okay, good.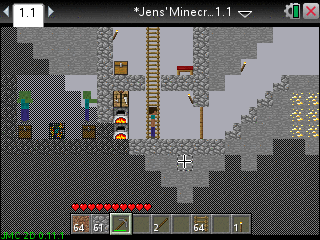 Earlier this year, Jens Kolbinger made the news when he released Bomberman Rush, a game that is still on my TI-Nspire to this day. Apparently, that was just a sneak peek at the level of game that was in store for our calcs. Jens has been diligently working in Lua to bring us Minecraft 2D, a full-fledged clone of the game that has taken the world by storm. There's not much more that I can say about it that Jens hasn't already said himself:

It is a 2D adaptation of the game "Minecraft" for the Nspire and has quite a lot of features yet:

Break and place Blocks
Randomly generated world, caves, ores, lakes, trees, flowers and dungeons
Day/Night cycle
Survival/Creative Mode (with flying)
Mobs: pigs, sheeps, chicken, cows, zombies, skeletons and creepers
Flowing water and lava
TNT
Fire
Bow and arrows
Farming
Falling sand
Inventory with moveable items
Itembar with selectable item/block
Tools with all functions of the real Minecraft
Functioning furnaces, chests, doors, beds, buckets and stairs
Crafting (without crafting grid)
Functioning Saplings
Shadows and Lights
5 savegame slots
2 graphic modes
Health and Breath
Export/Import world with the World Container
It has the same exploration experience and replay value as the real Minecraft
It has an innovative import/export function via the clipboard
Everyone in the TI-Nspire community has been going bananas over this program, so what are you waiting for?!