Calcuzap: Foe of Productivity!
Posted by Ryan on 16 November 2013, 01:48 GMT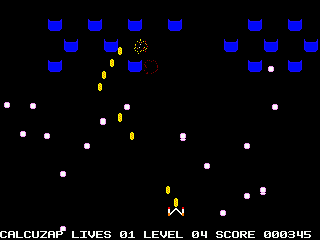 Please remain seated during the following ticalc.org Public Service Announce

Whatever you do, do not download Calcuzap for your TI-84+ CSE. I repeat, do not download this game. It has come to our attention that prolific calc author Patrick Davidson has designed this game in order to undermine feelings of boredom, inattention, and curmudgeonliness -- the very things that help one contribute to a productive society.
Symptoms of exposure include:
feelings of elation and merriment
paranoid thoughts about dodging spaceship ordnance
uncontrollable seeking of powerups
large distortions of time perception
very, very sore thumbs
spontaneous yearning for your calculator
If you or someone you know has been playing this game, please report it to your local grump for immediate calculator-wiping. Carry on, calc citizens!
Reply to this article
The comments below are written by ticalc.org visitors. Their views are not necessarily those of ticalc.org, and ticalc.org takes no responsibility for their content.
There are no comments on this article yet. Why don't you add one?

Copyright © 1996-2012, the ticalc.org project. All rights reserved. | Contact Us | Disclaimer