Frogger for the TI-84+ CSE
Posted by Ryan on 3 September 2013, 15:26 GMT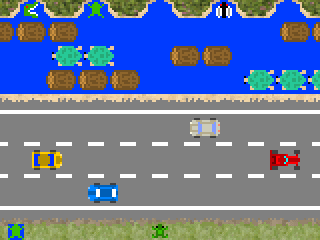 It's not often that an author will make the news twice within a week, but here we are, talking about Brian "~AssemblyBandit~" Mueller once again.
Helping to squash those last, lingering doubts about the viability of the 84+ CSE as an ASM platform, Brian has released Frogger in all of its colorful glory and, boy howdy, it looks nice. Bear in mind that this is not an arcade-perfect port, and it might not be running on two Z80 processors, but it is yet another step in demonstrating the dedication that our community has towards tinkering, discovering, and exploring the possibilities of the platforms that we love. Give Brian's Frogger a whirl, and I think that you'll agree that it earns its place nicely among the ticalc.org "classic frogs that we love" collection.