IViewer v1.1
Posted by Ryan on 30 August 2013, 00:34 GMT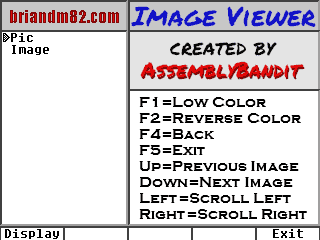 When it comes to creating images on your calc, it's hard to beat that rustic wholesomeness of tip-tapping your way through the creative process manually. That being said, I am also a fan of tools that can make lives simpler. As newer calc displays increase the time and complexity involved in creating knock-out pieces of pixel art, we like to raise our glasses, tip our hats, and roll out the red carpet for those who endeavor to make our lives easier.

Brian "~AssemblyBandit~" Mueller has brought us I(mage)Viewer v1.1, a slick little utility that can be used to transform images on your PC into APPVARs that can be viewed on your calc. As always, big props to Brandon for including the commented ASM source code. Make sure to check out the included notes for some tips on how to best convert your images, and make sure to give a big "thanks!" to the one and only ~AssemblyBandit~!

Update: We have super secret insider information that came down all the way from the Space Pentagon (much more secret than plain ol' Pentagon built on dirt) that an update is forthcoming and will have some more cool features, including sprite functionality for BASIC.