Bomberman Rush!
Posted by Ryan on 25 June 2013, 01:39 GMT
Welcome back from our brief hiatus! I'd like to apologize for the pause in news updates; the ticalc.org staff has been in the throes of a Nikkybot armageddon. Having successfully pushed the army of darkness back to its secluded secret fortress (for now), we are able to pick back up where we left off.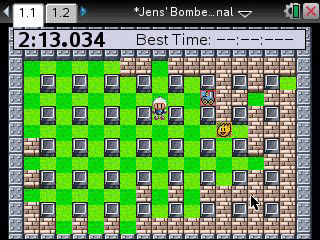 As a connoisseur of fine Bomberman-related software, I would be remiss if we did not open up with a mention of Bomberman Rush, a nicely construed LUA game for your TI-Nspire. This particular incarnation of our beloved Dynablaster takes on a more arcade-esque, "challenge your friends" feel, wherein the player is challenged to destroy the blastable bricks as quickly as is possible. I personally recommend grabbing an Nspire-wielding friend and dueling in either available mode. A tip of the hat goes to Jens Kolbinger, as this is their first release to our archives. Thanks, Jens!
As a side note, as we get caught up on news items, there is likely to be a thing or two that slipped under our radar. Don't hesitate to send off an electromatic correspondence to either the official ticalc.org mailbox or to myself personally!