Anagramarama for TI-Nspire
Posted by Ryan on 22 March 2013, 01:51 GMT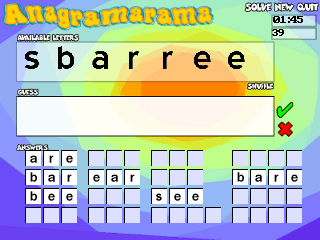 Word games exist in a strange space located at the space-time folds of three vile vortices, right under a giant pile of Atari 2600 E.T. cartridges, and inside of a hidden tomb containing all orthodonic retainers accidentally misplaced by middleschool-aged children. By that, of course, I mean that word games live at the nexus of fun and education, or as I like to call it, "edufuncation". Or maybe "fun-ucation". Don't worry, I'll come up with something other than "edutainment", I promise. Anyways, word games are great for not only providing a lot of enjoyment but, in line with psychological literature, actually serve to bolster language development and creativity, among other things.
Yesterday, A.J. Orians released Anagramarama to our archives, making it one of the most formidable word game releases to ever hit a TI calc. Ported from SDL, Anagramarama looks great on the Nspire as well as the Nspire CX, although functionality on non-touchpad models is still not settled as far as this news editor knows. The original Anagramarama is already played in locations around the world and is a wonderful choice of open source software to port over to the Nspire. If you're feeling left out due to an absence of NSpire ownership, you can join the (conceptual) effort towards further porting to z80 calcs!
Make sure to check out Anagramarama for the Nspire, and a big hats-off to A.J. Orians for doing a great job!