Dark Times Ahead
Posted by Ryan on 24 October 2012, 18:51 GMT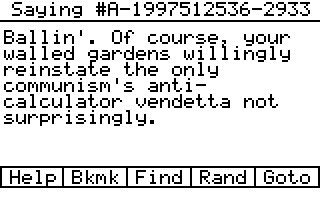 As we approach Halloween, we trend towards a fascination with fun frights, the macabre, and grotesque horrors. While our preoccupation with the grim and ghastly can be attributed to fun and intrigue, there are some true horrors in the world that are bringing us ever-closer to a cataclysm. Such evils cannot be ignored.
It is in these troubled times that I must caution you of recent transpirings that endanger the ticalc community, nay, civilization itself to the greatest factor. Resident malcontent and evil genius Travis Evans has been toiling is his secret underground island lair (skull-shaped, of course!), cloaked in darkness, operating out of the reach of international monitoring and sanctions. He has released an update to his nefarious software, sneering in raspy, goetic utterances of the end-times. I am referring, of course, to his release of The Nikky Simulator v0.10.01. Teeming with sarcastic opprobria, this simulator is spreading like wildfire. Proving to soon go sentient, I implore you to avoid combining this software with other TI-89 sorcery, lest you trigger the apocolypse by inadvertently creating Sky-Nikky-net.
Reply to this article
The comments below are written by ticalc.org visitors. Their views are not necessarily those of ticalc.org, and ticalc.org takes no responsibility for their content.
Re: Dark Times Ahead
KermMartian
(Web Page)

This is the best program ever created. This will be the program by which all other programs, ever, will be judged. Also, first person who ports this to a functional and non-annoying IRC bot gets to put that bot in #cemetech to replace the real nikky.

Reply to this comment
24 October 2012, 19:17 GMT



Re: Re: Dark Times Ahead
TC01

Bonus points if we run the IRC bot off of a TI-89?

Reply to this comment
25 October 2012, 04:08 GMT
Re: Dark Times Ahead
Travis Evans

Nice try, but it's too late. You're all doomed, and this is just the beginning. You have no chance to survive make your time. Ha ha ha!

Reply to this comment
25 October 2012, 04:55 GMT
Re: Dark Times Ahead
Stefan Bauwens
(Web Page)

This is on my calculater and it's pretty fun. In fact I made a review of it already. It just has to be still approved.

Hope I'll still be able to remove it though... :P

Reply to this comment
25 October 2012, 07:38 GMT
Re: Dark Times Ahead
Nikky Southerland
(Web Page)

I'll just leave this right here:

http://nykida.net/nikky-ipsum/

It's basically a wrapper for the CLI version that Travis released with 0.10.0. Refresh for new and exciting content!

Reply to this comment
26 October 2012, 03:44 GMT



Re: Re: Re: Dark Times Ahead
Jim Bauwens
(Web Page)

I made a Nspire port :D
See the link for a screenshot.

Converted the C code to Lua, so other devices using Lua can benefit too (Prizm for example).

Reply to this comment
27 October 2012, 20:43 GMT





Re: Re: Re: Re: Dark Times Ahead
Travis Evans

That will come shortly after the AI engine, currently in development >:)

Reply to this comment
31 October 2012, 07:13 GMT