Splut by Jeroen Slot and Rens Rikkerink
Posted by Travis on 4 October 2010, 16:18 GMT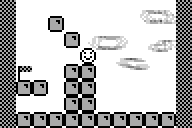 Here's a recently-released TI-83+SE/84+ Flash game that looks like a cross between Block Dude and Tetris. In Splut, you control a smiley that must use falling blocks as platforms to reach a flag without getting crushed by them. The game has scrolling backgrounds, four-shade grayscale, and multiple difficulty levels as well as a readme capable of exploding your calculator if you fail to read it.
Reply to this article
The comments below are written by ticalc.org visitors. Their views are not necessarily those of ticalc.org, and ticalc.org takes no responsibility for their content.
Re: Splut by Jeroen Slot and Rens Rikkerink
darl 181

I was thinking it wouldn't take very long for this to get featured.
Great job!

Reply to this comment
4 October 2010, 18:25 GMT
Re: Splut by Jeroen Slot and Rens Rikkerink
Rens Rikkerink
(Web Page)

Forgot to mention that the game was made using Axe Parser.

Reply to this comment
4 October 2010, 18:57 GMT
Re: Splut by Jeroen Slot and Rens Rikkerink
ztrumpet

Congrats Ikkerens! It's a deserving feature and a very nice game. Great job!

Reply to this comment
4 October 2010, 20:20 GMT
Re: Splut by Jeroen Slot and Rens Rikkerink
Michael Ride

Nice job, Ikkerens! It looks great. Congrats on the feature.

Reply to this comment
5 October 2010, 01:09 GMT

Copyright © 1996-2012, the ticalc.org project. All rights reserved. | Contact Us | Disclaimer