A Tetris Training Program: Tetris Revolution
Posted by Travis on 10 June 2010, 08:10 GMT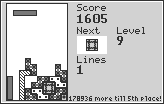 Andrew Vauter has released a unique Tetris game called Tetris Revolution. With the slogan Tetris for WINNERS, its practice modes, "holding", "damage control", and "race to 50 lines", are designed to help players become better at Tetris. Other tidbits include customizable controls, syncing with zTetris's high scores, piece statistics, and a realtime display of remaining progress needed to reach the next position on the high score list. Check out the readme for the full details!
Reply to this article
The comments below are written by ticalc.org visitors. Their views are not necessarily those of ticalc.org, and ticalc.org takes no responsibility for their content.
Re: A Tetris Training Program: Tetris Revolution
Kevin Ouellet
(Web Page)

Interesting, it's nice to see some variations of Tetris out there. I shall put this on my 89 Titanium once I get new batteries for it.

Reply to this comment
10 June 2010, 13:27 GMT
Re: A Tetris Training Program: Tetris Revolution
Compynerd255
(Web Page)

It's really nice that someone is being nice to the n00bs out there who just want to learn how to play Tetris. I know that there are a lot of people who have a game that is too hard on the onset, and need utilites like this to teach them the game. It's also nice that we have these new play modes, although I don't have an 89 to try this out on.

Reply to this comment
10 June 2010, 14:33 GMT
Re: A Tetris Training Program: Tetris Revolution
Compynerd255
(Web Page)

This program got featured almost instantly after it was posted. Why did it take so long for Axe to get featured?

Reply to this comment
10 June 2010, 14:33 GMT



Re: Re: A Tetris Training Program: Tetris Revolution
Lewk
(Web Page)

It's my understanding that the editors are making an effort to both play catchup, and be more prompt in the first place.

Reply to this comment
10 June 2010, 15:02 GMT





Re: Re: Re: A Tetris Training Program: Tetris Revolution
Compynerd255
(Web Page)

"Life's not fair. Get used to it." - Bill Gates


Reply to this comment
11 June 2010, 14:36 GMT



Re: Re: A Tetris Training Program: Tetris Revolution
Kevin Ouellet
(Web Page)

They were busy and stuff. Also, initially they were unsure I think, because Axe was not finished, and they were unsure about featuring an unifnished programming language (seeing what happened with Squirrelbox). At least Axe, though, worked pretty well.

Reply to this comment
10 June 2010, 20:07 GMT





Re: Re: Re: A Tetris Training Program: Tetris Revolution
Compynerd255
(Web Page)

I think that the file archivers and news editors are really busy and have to play catch up. A few days ago, I sent an email to Duncan Smith, the reviews editor, asking if there was anything wrong, since I noticed that there were no reviews getting published. He replied that he had finals, but his last final was on the 9th, and that he would get back to posting reviews and news on the 12th. I can't wait until tommorow...

Reply to this comment
11 June 2010, 14:37 GMT





Re: Re: Re: Re: A Tetris Training Program: Tetris Revolution
Kevin Ouellet
(Web Page)

For reviews I am a bit worried, though, since the last reviews approved are from several months ago.

News-editing/file archiving-wise, I think it is still quite fast, though. I still remember back when no files were approved for entire months and the pending queue reaching 1378 files once

Reply to this comment
11 June 2010, 20:24 GMT





Re: Re: Re: Re: Re: A Tetris Training Program: Tetris Revolution
Duncan Smith
(Web Page)

I'm still here ... I could make up all sort of lame excuses but I'll just say that my most recent project has been more interesting than reviews. They're on my queue, I'll push it higher on the list.

Reply to this comment
17 June 2010, 07:12 GMT





Re: Re: A Tetris Training Program: Tetris Revolution
KermMartian
(Web Page)

Doors CS has been around for eight years, and it has never been featured. Life sucks and is unfair, get used to it now or you'll get used to it later in your life. :P

Reply to this comment
12 June 2010, 15:13 GMT



Re: Re: Re: A Tetris Training Program: Tetris Revolution
Barrett Anderson
(Web Page)

Doors CS demonstrates one of the reasons that a good program doesn't get featured: gradual updates. It started out as a BASIC shell (which didn't deserve a feature), and you gradually made it into what it is today. Being an 89 person myself, I've never actually used it, but I hear it's pretty good these days, and probably would have been featured had it been released all at one time. Perhaps you could make a "new" project with a new name (and without the mouse pointer :) )

Reply to this comment
13 June 2010, 05:56 GMT





Re: Re: Re: Re: A Tetris Training Program: Tetris Revolution
Steve Randle

Or you could advertise for it more. (E.g. Several new updates included!) That might get their attention.

Reply to this comment
13 June 2010, 18:08 GMT





Re: Re: Re: A Tetris Training Program: Tetris Revolution
Kevin Ouellet
(Web Page)

I am confident it will eventually get featured

Reply to this comment
13 June 2010, 07:16 GMT



Re: Re: A Tetris Training Program: Tetris Revolution
Steve Randle

You and I both...

Reply to this comment
10 June 2010, 22:20 GMT





Re: Re: Re: Re: A Tetris Training Program: Tetris Revolution
Kevin Ouellet
(Web Page)

Hopefully those with Nspires will be able to play it eventually too. All depends if Calc84maniac ever finishes his 68K emulator. It would run a bit slow, though, according to him and those with Touchpad Nspires would need to wait for Ndless 2.0 since they can't downgrade to OS 1.1.

Reply to this comment
11 June 2010, 01:17 GMT





Re: Re: A Tetris Training Program: Tetris Revolution
Steve Randle

You know, at my school, everyone (no joke) has a 83+ or 84+, and about 25% of the people who have them know how to program. There is literally NO PERSON there that can program on an 89.

See, there are still some benefits of having an 83+/84+.

Reply to this comment
13 June 2010, 02:02 GMT





Re: Re: Re: A Tetris Training Program: Tetris Revolution
schoolhacker hacker
(Web Page)

yeah...
same for my school...

except that everyone at my school sucks and dont know how to program...

me kinda included... (only know basic... T.T)
but i am in the process of learning assembly now...

Reply to this comment
13 June 2010, 07:18 GMT