Pac-Man: Revive the Original Arcade Classic on Your TI-89
Posted by Travis on 22 March 2010, 15:22 GMT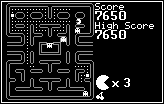 Our next feature is a convincing TI-89 rendition of the memorable arcade game Pac-Man. The animation in Andrew Vauter's clone is pleasantly smooth and fluid, and gameplay matches the original in great detail, from the maze itself to the individual ghosts' behaviors. To keep the challenge fresh, if also offers a mode with nine different goals to meet. Completing all of them will unlock a secret new mode of play.
Update: 92+ and V200 versions are now available.
Reply to this article
The comments below are written by ticalc.org visitors. Their views are not necessarily those of ticalc.org, and ticalc.org takes no responsibility for their content.
Re: Pac-Man: Revive the Original Arcade Classic on Your TI-89
calcs4life

This looks like a fun game! From one glance of the image, it seems very realistic. I would like to try the game but unfortunately I don't own a TI-89.

Reply to this comment
22 March 2010, 22:31 GMT





Re: Re: Pac-Man: Revive the Original Arcade Classic on Your TI-89
Macspire

Same here. But it will be at the top of my list when the TI-89 Emulator is released for the TI-Nspire.

Reply to this comment
23 March 2010, 01:10 GMT
Re: Pac-Man: Revive the Original Arcade Classic on Your TI-89
ti89nspire

This is a great game! The challenges are hard, but not too hard that one cannot pass them with a few tries (I am still on the Intermediate ones). The game is a little easier than regular Pac Man. When you start, the ghosts all move to the top corner, giving you a few seconds to start eatting dots. This is one of the best games for the TI 89! Thank you for a wonderful job Andrew Vauter!

Reply to this comment
22 March 2010, 23:03 GMT



Re: Re: Pac-Man: Revive the Original Arcade Classic on Your TI-89
schoolhacker hacker
(Web Page)

i emailed him asking for possible source codes so i can perhaps port it over to the TI-83,(if he is not planning to port it over) but he never responded...
>:

Reply to this comment
22 March 2010, 23:40 GMT





Re: Re: Re: Pac-Man: Revive the Original Arcade Classic on Your TI-89
Andrew V
(Web Page)

I'm sorry, I never received an email asking for the source code. Was this recent?

Reply to this comment
23 March 2010, 00:16 GMT





Re: Re: Re: Re: Pac-Man: Revive the Original Arcade Classic on Your TI-89
schoolhacker hacker
(Web Page)

it was a few weeks ago actually...
the day you released the program, or the day it showed up on the newly added area :)

Reply to this comment
23 March 2010, 01:14 GMT





Re: Re: Pac-Man: Revive the Original Arcade Classic on Your TI-89
Andrew V
(Web Page)

I realize this is a bit late, but if you play the original game (in the arcade cabinet, or on the MAME emulator), the ghosts start in scatter mode, where they go to their corners, at the start of play. After a few seconds, they go to attack mode and follow their normal pathfinding algorithms. So the ghosts scattering to the corners is not a fluke, but part of the original gameplay.

Reply to this comment
5 August 2014, 04:01 GMT
Re: Pac-Man: Revive the Original Arcade Classic on Your TI-89
Kevin Ouellet
(Web Page)

Nice, close to original ^^

Reply to this comment
23 March 2010, 18:27 GMT
Re: Pac-Man: Revive the Original Arcade Classic on Your TI-89
ASchoenfeld

Would it be possible to compile this game for all 68k calcs?

Reply to this comment
24 March 2010, 14:16 GMT



Re: Re: Pac-Man: Revive the Original Arcade Classic on Your TI-89
Andrew V
(Web Page)

I'll start working on it. I don't have much experience with programming on other calculators, nor do I own any, so it would only be stable on the emulator...

Reply to this comment
24 March 2010, 16:57 GMT





Re: Re: Pac-Man: Revive the Original Arcade Classic on Your TI-89
Andrew V
(Web Page)

I just submitted an update. I fixed a few minor bugs, and compiled it for the 89, 92+, and voyage 200.

Reply to this comment
25 March 2010, 05:41 GMT





Re: Re: Re: Pac-Man: Revive the Original Arcade Classic on Your TI-89
Isaac Shanholtz

Will games like this and other TI-89 programs work on a TI-89 Titanium, or do most TI-89 programs only work on TI-89s and not Titanium editions?

Reply to this comment
1 April 2010, 17:06 GMT





Re: Re: Re: Re: Pac-Man: Revive the Original Arcade Classic on Your TI-89
Andrew V
(Web Page)

Most TI-89 programs on this site work with the Titanium, however, some don't. Some programs have a specific file for the Titanium included in the zip.

Reply to this comment
1 April 2010, 17:36 GMT





Re: Re: Re: Re: Re: Pac-Man: Revive the Original Arcade Classic on Your TI-89
Isaac Shanholtz

So which would you recommend: the TI-89, or the TI-89 Titanium?

Reply to this comment
2 April 2010, 01:19 GMT





Re: Re: Re: Re: Re: Re: Pac-Man: Revive the Original Arcade Classic on Your TI-89
Andrew V
(Web Page)

I don't own a regular 89, so I'm not sure which one I'd recommend. Sorry

Reply to this comment
2 April 2010, 22:07 GMT
Re: Pac-Man: Revive the Original Arcade Classic on Your TI-89
Ranman
(Web Page)

This game is freakin' awesome!

I'm waiting for the smell to chime in...

Reply to this comment
25 March 2010, 22:10 GMT
Re: Pac-Man: Revive the Original Arcade Classic on Your TI-89
Andrew V
(Web Page)

I submitted another update... I hate to keep updating, but I found a bug where the game sometimes fails to acknowledge the completion of the 'Perfectionist' challenge. This is, in my opinion, the hardest challenge to complete, so I would hate for someone to get it, then not have it recorded.

Reply to this comment
26 March 2010, 03:19 GMT