Sudoku Champion Wannabes, Rejoice!
Posted by Travis on 2 January 2010, 11:28 GMT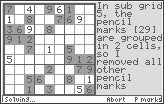 If there's anyone out there whose New Year's resolution just happens to be becoming really skilled at solving Sudoku puzzles and can find a TI-89, here's your chance! Andrew V. has released the versatile, fully-featured Solver of All Solvers for quad—er, Sudoku puzzles. It not only just solves them, it can tell you how to solve a puzzle logically, step by step, helping you learn key solving strategies, as well as showing the "pencil marks" that would be used during the solving process. You can also save puzzles and recall them later.
Well, if you'll excuse me, I'm off to see if I can find a Sudoku puzzle book...
Reply to this article
The comments below are written by ticalc.org visitors. Their views are not necessarily those of ticalc.org, and ticalc.org takes no responsibility for their content.
That's not all...
Travis Evans

By the way, there's at least one more featured program announcement to come, as soon as I get around to it—so keep an eye out.

And before anyone asks about POTY results :-)—yes, we're working on it!

Oh, and happy new year to everybody!

Reply to this comment
2 January 2010, 11:35 GMT
Re: Sudoku Champion Wannabes, Rejoice!
nonexistent

Reason number 493 to want a TI 89...

Looks nice though.

Reply to this comment
2 January 2010, 23:18 GMT





Re: Re: Re: Sudoku Champion Wannabes, Rejoice!
nonexistent

So you daydream about quadratic solvers? That's a first.

Reply to this comment
3 January 2010, 19:38 GMT
Re: Sudoku Champion Wannabes, Rejoice!
mdsb
(Web Page)

Looks neat.
I imagine I would not need to be told how to solve them since I can figure out most (if not all) fill-in type puzzles.


Reply to this comment
6 January 2010, 00:20 GMT