Triple Triad 68K
Posted by Travis on 24 November 2009, 10:13 GMT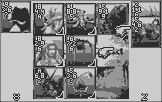 Not too long ago, David Coz and Samuel Coz released Triple Triad 68K for the TI-89. It is a trading-card-style game based on Final Fantasy VIII. The game is available in both English and French and has very nice graphics. Unfortunately, I'm not really familiar with the Final Fantasy series, so I can't say much else; you'll have to download it and check it out for yourself.
Update: The file has been updated with a TI-92+ version.
Update (December 20): A Voyage 200 version is now available.
Reply to this article
The comments below are written by ticalc.org visitors. Their views are not necessarily those of ticalc.org, and ticalc.org takes no responsibility for their content.
Re: Triple Triad 68K
ASchoenfeld

I would instantly download it but it´s just for Ti89 and not for the other 68k calculators. It would be nice if they made it compatible for the other 68k models too.

Reply to this comment
24 November 2009, 15:26 GMT





Re: Re: Triple Triad 68K
Lewk
(Web Page)

According to its readme, it was written in C with tigcc so if you ask the author, maybe builds for other calculators would be possible.

Reply to this comment
25 November 2009, 00:12 GMT





Re: Re: Re: Triple Triad 68K
ASchoenfeld

I´m happy that a support for Ti92+/V200 is mentioned in the To Do list :)

Reply to this comment
27 November 2009, 12:18 GMT
Re: Triple Triad 68K
Samuel COZ

I will release the v200,92+ version tommorow. Moreover, this release fix a minor bug in the game...

Reply to this comment
28 November 2009, 15:35 GMT





Re: Re: Triple Triad 68K
treflip
(Web Page)

Hi, I downloaded this to play on the voyage200 but was unable to load it. I've never played assembly games but am trying to learn. How do I start it?

Thanks,
Tre

Reply to this comment
9 December 2009, 06:38 GMT



Re: Re: Re: Triple Triad 68K
Travis Evans

It seems that for some reason the current version was built with only TI-89 and TI-92+ enabled and not V200. I'm not sure if this was accidental or if there was a reason for it. You may have to contact the author and ask.

Reply to this comment
9 December 2009, 07:07 GMT





Re: Re: Re: Re: Triple Triad 68K
ASchoenfeld

I hope you will find a possibility to compile the game for the V200. Would be very nice

Reply to this comment
9 December 2009, 15:05 GMT
Re: Triple Triad 68K
_DigiTan
(Web Page)

David Coz? The jazz musician? :D

Heh. Just playing. This is really an interesting twist on the Final Fantasy Series. It's games like this that make people rush out for new TI models!

Reply to this comment
13 December 2009, 02:36 GMT





Re: Re: Triple Triad 68K
treflip
(Web Page)

The operator has now finished the version for the Voy200! Go ahead and try it out if you were waiting to play, it should work now!

:)

Reply to this comment
1 January 2010, 16:17 GMT

Copyright © 1996-2012, the ticalc.org project. All rights reserved. | Contact Us | Disclaimer