Chip's Challenge: An Eight-level Grayscale 83+ Puzzler
Posted by Travis on 25 September 2009, 20:28 GMT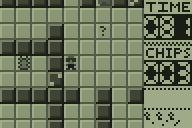 After TI-Boy was added to the archives on June 22, Brendan Fletcher has returned precisely three months later to post Chip's Challenge, a clone of the classic tile-based puzzle game that was released for various systems including the Atari Lynx, Amiga, and ZX Spectrum. The goal is to navigate through an extensive array of levels filled with all types of puzzles and obstacles. This game goes a step beyond traditional grayscale programs by using eight-level grayscale on the 83+ series. Check it out.
Reply to this article
The comments below are written by ticalc.org visitors. Their views are not necessarily those of ticalc.org, and ticalc.org takes no responsibility for their content.
Re: Chip's Challenge: An Eight-level Grayscale 83+ Puzzler
Brandon Wilson
(Web Page)

That looks super neat.

It's honestly been years since I played an 83+ game, but I think I just might give that a shot.


Reply to this comment
25 September 2009, 21:04 GMT
Re: Chip's Challenge: An Eight-level Grayscale 83+ Puzzler
Kevin Ouellet
(Web Page)

I eat chips

...err... I mean I'm happy finally someone did that for 83+. On top of that, it has grayscale.

On regular 83+ GS isn't as great but still not that bad and it's only because of the shitty LCD that causes areas around vertical checkered patterns ones to have lower contrast than other parts of the screen, plus the contrast on the 83+ being so different between dark/bright causing me to only be able to view 7 of the 8 shades of gray at once.

Awesome job Calc84maniac and congrats for the feature. You deserve it!

But now... FINISH F-ZERO! :D j/k but yeah I can't wait for this one too (and the new Super Mario clone)

Reply to this comment
25 September 2009, 21:34 GMT





Re: Re: Chip's Challenge: An Eight-level Grayscale 83+ Puzzler
Eeems

lol, no he needs to finish his raycaster and make it a BASIC lib :P

Reply to this comment
25 September 2009, 22:18 GMT
Re: Chip's Challenge: An Eight-level Grayscale 83+ Puzzler
elfprince13
(Web Page)

Someone is on a role. That's all I have to say about that.

Reply to this comment
25 September 2009, 22:34 GMT
Re: Chip's Challenge: An Eight-level Grayscale 83+ Puzzler
Lewk
(Web Page)

I absolutely love that scaling effect at the beginning. Pretty damned impressive.

Reply to this comment
26 September 2009, 00:33 GMT





Re: Re: Chip's Challenge: An Eight-level Grayscale 83+ Puzzler
bfr
(Web Page)

Yeah, I love that effect too.

Nice work!

Reply to this comment
26 September 2009, 15:20 GMT
Re: Chip's Challenge: An Eight-level Grayscale 83+ Puzzler
mdsb
(Web Page)

I think I like the PC version better since the screen is better to see.


Reply to this comment
26 September 2009, 00:39 GMT
Re: Chip's Challenge: An Eight-level Grayscale 83+ Puzzler
James Lennon

I would really like to see some source code on how he got 8 level GS on an 83+

Reply to this comment
26 September 2009, 06:03 GMT





Re: Re: Chip's Challenge: An Eight-level Grayscale 83+ Puzzler
mapar007
(Web Page)

Great job! I smell a potential POTY nomination...

The zoom in effect is really cool, and EIGHT LEVEL GS... Never saw that. Congratulations!

Reply to this comment
26 September 2009, 09:43 GMT





Re: Re: Re: Chip's Challenge: An Eight-level Grayscale 83+ Puzzler
Someone Someone

How flicker free is the grayscale? I didn't know 8-level was possible in a usable manner.

Reply to this comment
27 September 2009, 01:49 GMT
Re: Chip's Challenge: An Eight-level Grayscale 83+ Puzzler
Andrew V
(Web Page)

Contrary to information in the description of this file, it is not the first Chips Challenge for TI. It is, however, the first for the 83+. A while ago, I released Chips Challenge for the 89 and 89 titanium. (just for the record)

Reply to this comment
8 October 2009, 15:23 GMT



Re: Re: Chip's Challenge: An Eight-level Grayscale 83+ Puzzler
Kevin Ouellet
(Web Page)

It's the first 8 level grayscale chips clone for TI, though. The 89 one is just 4 level

Reply to this comment
9 October 2009, 13:44 GMT
Re: Chip's Challenge: An Eight-level Grayscale 83+ Puzzler
theUnnamed

only 8 levels the original chips chalenge had like somewhere between 200-500

Reply to this comment
12 April 2010, 14:19 GMT





Re: Re: Chip's Challenge: An Eight-level Grayscale 83+ Puzzler
Flexico
(Web Page)

Eight levels OF GRAYSCALE, i.e. 8 colors instead of just black and white. It has all 149 original levels. =P

Reply to this comment
1 September 2010, 16:22 GMT
Re: Chip's Challenge: An Eight-level Grayscale 83+ Puzzler
Flexico
(Web Page)

I'm having some trouble getting it to work smoothly on my 83+silver; the screen jumps around a lot. I found "alcdfix", an assembly program that adjusts display driver settings, and that helped a little, but it's still almost unplayable.

Any suggestions/solutions?

Reply to this comment
1 September 2010, 16:25 GMT





Re: Re: Chip's Challenge: An Eight-level Grayscale 83+ Puzzler
Andrei Akhmetov

Just get an 84, or 83+(Nonsilver), it is probably a display routine bug that can't be patched(currently)

Reply to this comment
26 March 2011, 22:42 GMT
Re: Chip's Challenge: An Eight-level Grayscale 83+ Puzzler
Andrei Akhmetov

I'd love to see a way to add custom levelsets with an appvar.

Reply to this comment
29 March 2011, 12:16 GMT