Happy Pi Day!
Posted by Michael on 14 March 2008, 17:48 GMT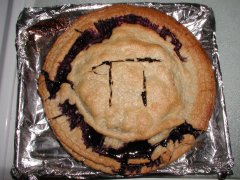 Today is everyone's favorite holiday, Pi Day! On behalf of all of the ticalc.org staff, we wish you a happy Pi Day! Be sure to bake a Pi Day pie. Hopefully yours turns out with a more uniform circumference than the one here.
Reply to this article
The comments below are written by ticalc.org visitors. Their views are not necessarily those of ticalc.org, and ticalc.org takes no responsibility for their content.





Re: Re: Happy Pi Day!
Lewk Of Serthic

[shameless plug] Those interested in generating Pi might want to check out my TiPi program ;) [/shameless plug]

Unfortunately I didn't get around to writing a Pi Day program this year, anybody else do anything?

Reply to this comment
14 March 2008, 20:24 GMT
Re: Happy Pi Day!
Aaron Miller

I celebrated Pi day by eating pie today. I would have baked one, but I didn't think of it until late in the day. :)

Reply to this comment
15 March 2008, 01:13 GMT
Re: Happy Pi Day!
j-z-d

If cakes are round, what are pie? Pie are square! (pi r squared)

Reply to this comment
17 March 2008, 21:43 GMT
Re: Happy Pi Day!
Travis Evans

<Bangs head on wall>
I forgot all about Pi Day this year. I guess you can all throw pi(e)s at me now.

Reply to this comment
1 April 2008, 07:28 GMT