Invalid Tangram DE Released
Posted by Michael on 26 July 2007, 02:51 GMT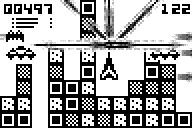 Kerm Martian has released Invalid Tangram DE for the 83+. Based on a PC game, Invalid Tangram is a shoot-em-up that is best described as a cross between Space Invaders and Tetris. Enemy hits affect time remaining rather than a health level, and the player must build block combinations to gain more time.
Reply to this article
The comments below are written by ticalc.org visitors. Their views are not necessarily those of ticalc.org, and ticalc.org takes no responsibility for their content.
Re: Invalid Tangram DE Released
Peter Fernandes
(Web Page)

Congratulations Kerm. I think the game could use some work. I think the player's ship moves way too fast (the whole game really), and the fact that it can go partially off the screen is annoying to me. The gameplay is too chaotic.

Reply to this comment
26 July 2007, 04:26 GMT





Re: Re: Re: Invalid Tangram DE Released
olav_nordmann

The game actually slows down if there is many objects (escapely bullets) moving on the screene. However, you doesn't see any effect of this unless you have all of the powerups on max.

It also seems that Easy mode seems to be more easy than version 1.0, who is a good thing because the Easy mode in version 1.0 was really hard. Another good thing is that you fixed that glitch on the Highscore (pressing enter for more than 0.25 seckonds would cause the highscroe table to close).

Reply to this comment
26 July 2007, 14:28 GMT



Re: Re: Invalid Tangram DE Released
TheStorm

The reason the ship can go off the screen is because that is the way the origonal game is. I haven't tried the new version but The increased speed is a good thin when playing in easy because it make it harder because easy is just like it sounds. oh and great job Kerm I can't wait to try the new version.

Reply to this comment
26 July 2007, 14:47 GMT





Re: Re: Invalid Tangram DE Released
Peter Fernandes
(Web Page)

After playing for a while, I have to revise my comment. The gameplay really isn't too fast after a while, and I find the game to be fun.

Reply to this comment
27 July 2007, 01:39 GMT
Re: Invalid Tangram DE Released
Jason Malinowski
(Web Page)

For those who like blinking and flashing things, the rest of the screenshots are now on the file info page...complete with an animated screenshot.

Reply to this comment
26 July 2007, 06:11 GMT





Re: Re: Invalid Tangram DE Released
KermMartian
(Web Page)

Thanks, Jason. :) Since it's outdated and rather glaringly contradictory, could I trouble you to remove the first screwenshot (of the main menu with the blank black space)? Thanks in advance.

Reply to this comment
26 July 2007, 12:35 GMT
Re: Invalid Tangram DE Released
aladdinslamp
(Web Page)

Huh. Neat. I'll probably be downloading this... soon...

Reply to this comment
26 July 2007, 06:47 GMT





Re: Re: Invalid Tangram DE Released
KermMartian
(Web Page)

Very nice! If I may, though, I'd like to point out a thing or two. :)

The powerups have degrees of activation; they all get more powerful the more blocks you get at once. Rapidshot has 4 speeds, powershot has 16 powers shown with three different sets of shot sprites, and multishot can shoot 1, 3, or 5 shots at once. Also, the hard level differs not in how the enemy ships operate but in the rule governing block absorption.

Other than that, I think you did a great job.

Reply to this comment
27 July 2007, 12:22 GMT
Re: Invalid Tangram DE Released
Iamee

The game is great. However, I have noticed that when you get to around 60,000 points the score resets.Otherwise, I don't think it needs any changes.(I like the partially disappearing ship).I got to level 208, had a reset score, and got 43000 points AFTER the reset (on easy).

Reply to this comment
14 August 2007, 21:29 GMT





Re: Re: Invalid Tangram DE Released
KermMartian
(Web Page)

Nice, well done. The score recycle at 65,535 is a known issue; to avoid it, I'd have to switch to 3-byte scoring, which would require modifications in the display, increment, and high score sections. I'm considering whether I feel like doing that.

Reply to this comment
14 August 2007, 22:01 GMT