Xchange Released for the 89
Posted by Michael on 22 May 2005, 01:29 GMT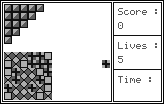 Cyril Mottier has released a puzzle game for the TI-89 called Xchange. Xchange is one of those complicated games that seems impossible to explain, but is simple to play. If you like convoluted puzzles, then this is the game for you. The author intends to release 92+ and V200 versions soon.
Reply to this article
The comments below are written by ticalc.org visitors. Their views are not necessarily those of ticalc.org, and ticalc.org takes no responsibility for their content.
Re: Xchange Released for the 89
ssssmemyself
(Web Page)

Slightly confusing at first... but I like it! I recommend downloading it.

Reply to this comment
22 May 2005, 02:06 GMT



Re: Re: Xchange Released for the 89
Cyril Mottier
(Web Page)

Hi DWedit,

I'm the author of this game and i'm sorry if you don't like the name :). In fact, i found this game on an old portable console. And now, I thank you because i've seen that this game had been released by Taito a long time ago... :D. Thank you !

Reply to this comment
22 May 2005, 08:35 GMT





Re: Re: Re: Xchange Released for the 89
anykey
(Web Page)

Hi Cyril Mottier,
I'm Eric Wood, and I think this game looks pretty cool.
I like all of the nice graphics (grayscale!).

Reply to this comment
23 May 2005, 17:29 GMT





Re: Re: Re: Re: Xchange Released for the 89
Cyril Mottier
(Web Page)

Thank you very much! I'd like to thank you all of you :) I will probably release a new version (for V200 and Ti92+) during my holidays. (july - august)

Reply to this comment
31 May 2005, 10:40 GMT





Re: Re: Re: Xchange Released for the 89
Chris Williams

I don't think it would be, since the trademark probably hasn't been used, let alone defended, for many years now. Isn't a trademark lost in that case?

Reply to this comment
22 May 2005, 18:49 GMT





Re: Re: Re: Re: Xchange Released for the 89
DWedit
(Web Page)

Many programs on the ticalc.org archives clearly violate trademarks, but Bill Nagel and Sam Heald haven't gotten any C&D letters from Nintendo yet. Probably because they are freeware programs not for sale.

Reply to this comment
23 May 2005, 02:17 GMT



Re: Re: Re: Re: Re: Xchange Released for the 89
artraid
(Web Page)

And because the TI community is tougher than Nintendo or other small-town players could ever dream of being. ;)

Reply to this comment
23 May 2005, 20:35 GMT





Re: Re: Re: Re: Re: Xchange Released for the 89
Denial

Bill Nagel and Sam Heald may not have gotten any Cease and Desist letters, but Kirk Meyer did:
http://www.ticalc.org/archives/news/ articles/0/2/2322.html

Reply to this comment
31 May 2005, 02:16 GMT
Re: Xchange Released for the 89
Peter Bucher

Interesting, this game lies around nearly finished somewhere on my hd in one of those TI8x-project folders. Along with Pong3D, Memory, Dextrity, Ball Madness and a 2d-hack'n'slay... Way too many unfinished/unreleased projects from those days..

Maybe some ppl from the maxcoderz forum remember the "flippull-alpha" ;)

Reply to this comment
23 May 2005, 21:41 GMT



Re: Re: Xchange Released for the 89
randomperson

"2d-hack'n'slay".... hmmm... would that perhaps be something similar to castlevania? I was considering starting to make a C castlevania game, but I still have some scrolling-related stuff to work out. Not to mention finding the time.

Reply to this comment
24 May 2005, 05:47 GMT





Re: Re: Re: Xchange Released for the 89
randomperson

sorry, I shouldnt've said that, off topic, I know. I tried XChange, fun game. A bit confusing at first, but only at first. Yep.

Reply to this comment
24 May 2005, 05:48 GMT