ClosedGL Graphics Library
Posted by Michael on 3 February 2005, 02:28 GMT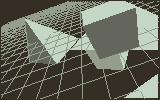 David Teitlebaum has uploaded his stunning graphics library for the TI-89, ClosedGL. Formerly of the name "OpenGL" but changed because of trademark concerns, this program is intended to be statically linked by developers to aid in the creation of advanced graphics. There isn't much more to mention here as only developers will be able to directly make use of this. Be sure to look at some of the other screenshots in the zip file; they are very impressive.
Reply to this article
The comments below are written by ticalc.org visitors. Their views are not necessarily those of ticalc.org, and ticalc.org takes no responsibility for their content.
Re: ClosedGL Graphics Library
coinmanz
(Web Page)

This is truly amazing. As is the newly released TEXAS Fighters. I personally feel that game should be given it's own TI Community holiday :-)

Reply to this comment
3 February 2005, 23:20 GMT
1 2

You can change the number of comments per page in Account Preferences.



Copyright © 1996-2012, the ticalc.org project. All rights reserved. | Contact Us | Disclaimer